(Last Updated On: July 18, 2013)
I know and you may also be familiar with comments. Comments are one of the best ways to get in touch with the post/article author by leaving a comment on his article. Comments can engage with your visitors and initiate the discussion with them. However, if you are using WordPress and your blog is getting one or two comments a day, then what's the problem. The problem is not with your blog content but it occurs by the default comment form title in WordPress saying "Leave A Reply" it doesn't really engage your readers or encourage them to start a discussion on your blog.
Now, you can change the comment form title in your WP blog by post-by-post basis. Custom Comment Form Title WP plugin will allow you to quickly change the default title to something more engaging. Use compelling questions as for your comment form title, make a bold statement, or leave an empty threat. This will not only increase the conversion rate of your comments but also engage with your visitors with more meaningful comment form titles, created on a post-by-post basis!
In order to use custom comment form titles in your blog, use this plugin. Follow the steps below: 1. Install Custom Comment Form Title in your blog 2. Go to Settings > Custom Comment Form Title and add the default Comment form title on the plugin settings page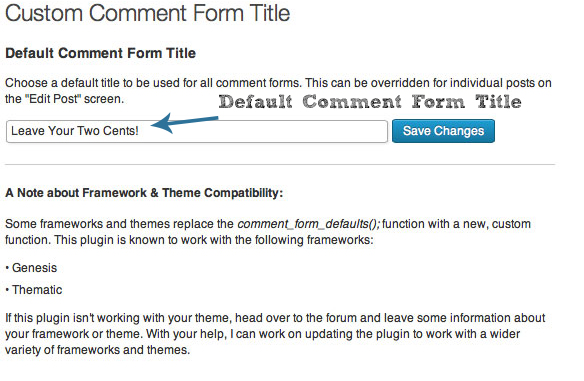 3. Go and create a new post in your blog. Scroll down a little and add your custom comment form title like this: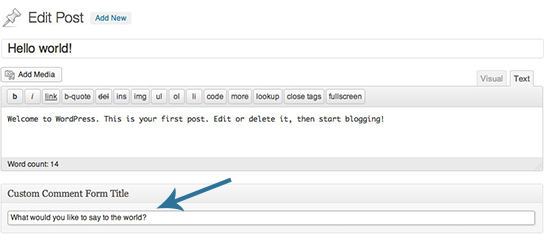 Theme Framework Compatibilities
We have just figure out that some frameworks and themes replace the comment_form_defaults function with a unique function. This plugin has been tested with, and is known to work with, the following frameworks: