I've been realizing that many fellow bloggers out there are trying to display Twitter feed in their WordPress based blogs. In this way, when I was browsing the free WordPress plugins repository I just came across a Wonderful WP plugin that gives me the access to display Twitter feed seamlessly just within any WordPress blog. Yet it's hassle-free, user-friendly way to add a Twitter Feed to your WP blog.
:Let me just show you guys, what I'm talking about. Kebo Twitter Feed WordPress plugin will provide you a custom widget that will allow users to simply drag and drop the widget inside the sidebars or footer areas and start displaying their Twitter Feed in their blogs as well as direct access to the data for developers.

This plugin will start working just after activation. It will require you some permissions for Kebo Twitter App to read your Twitter Feed for your Twitter account.
Features
Hassle-free Twitter API handling. Strict Security of OAuth Requests for you (No third party is involved)
Connect your blog with Twitter within seconds without any technical knowledge required.
Local cache backup, in case the connection to Twitter has problems.
Caching used to avoid needless requests every page re-fresh.
Handy widget to display your feed easily in sidebars/footer areas.
How to Use Kebo Twitter Feed
1. First of all, install Kebo Twitter Feed in your blog
2. Navigate to Kebo Twitter under Settings tab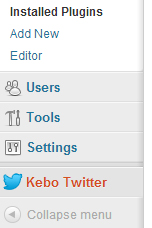 3. On the plugin settings page, click on the grey button saying Connect to Twitter and configure the rest of settings on the page.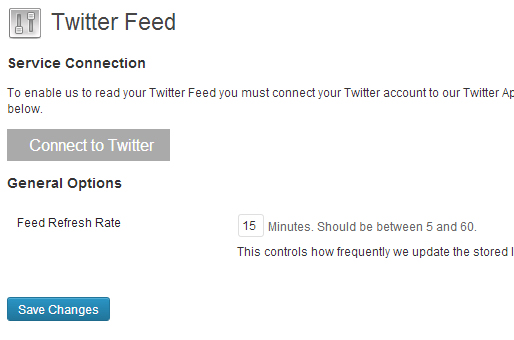 4. Once you connected your Twitter account with the plugin, the Grey button will turn into sky blue button much like Twitter official website's colour.
5. Finally, go to Appearance > Widgets, and simply drag and drop the widget "Kebo Twitter Feed" in the sidebar where you want to display your Twitter Feed.