In this article, I will show you how we can grab our readers attention by notifying them on approving their comments which they just posted on your WordPress blog. This is the pretty good way to knock the readers who do comment on your blog, but even don't bother to see the comment back on your site. In short, they don't remember about the comment that they just posted on your site. The WordPress plugins repository made our blogging journey easy just by installing and activating a simple WP plugins,themes, everything on one click.

Notify Comment Author When Comment is approved
It's a simple WP plugin which let us inform the comment author on the approval of his/her comment by mailing them automatically. However, there is an admin settings page where you can set every thing according to your need, you can add CC, BCC, email, subject and the message that you want to be sent after approving a comment.
1. Download, install and activate Email Notification On Comment Approval
2. Under Settings tab click Comment Notificatin

On this page, you will be able to rewrite the message you want to send to the comment author on approving the comment.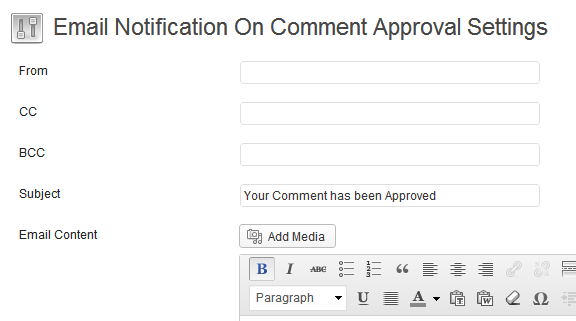 You can insert code for site URL, Comment page URL And Site name as dynamic mail content . You can do it by inserting [site_url], [comment_url] and [site_name]. The best thing is that you can use the WordPress TinyMce default editor and can insert the images, as like your write a post