As we know that Facebook offers us to add its comments system in our WordPress blogs just like that Google+ the second biggest social sharing website have also invented a comments system that is applied on comments system in Blogger by default but what about WordPress?
Well, gradually day by day the WordPress plugin developers try to code such a pretty comments system for WP blogs. It has some benefits if you are using Gplus comments system. Your author rank will increase which usually determined by connections the more you have connections on social media the better author rank you will get. Your site will get a higher rank on Google.
Anyways, I've also wrote an article about Google+ Comments System in WordPress… But in this article I'm just going to show you a list of 5 WordPress plugins that let's you add that Google+ Comments system in your WP blog easily. The reason is quite simple why using different plugins rather than using one that I've reviewed about previously.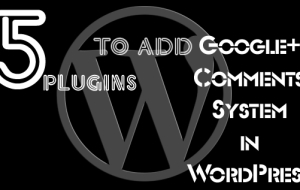 1. Google+ Comments Widget
A simple WP plugin which adds Google+ comments widget at the end of each post/page of your WordPress blog. It's fully customizable. On installation it will replace the default WordPress commenting system with Google+ comments system.
2. Google+ Comments for WordPress
Google+ Comments for WordPress makes the comment section tabber seamlessly by adding tabs for Google+ Comments, WordPress Comments, and Trackbacks.
3. Google+ PlusOne Comments
4. Google+ Comments
This plugin lets you add Google+ comments to your WordPress site. The plugin is customizable and can be customized from the plugin settings page…
5. WordPress Google Plus Comments