Video sharing websites have a lot of fame across the world. The way to where people can watch funny videos, news, TV shows, Video Songs and much more. Through Video sharing service the people can upload their videos and broadcast them through all around the world, it gives people the chance to share their individual as much as business videos with others. Take into your account that there are Top 8 best and awesome that I will share here.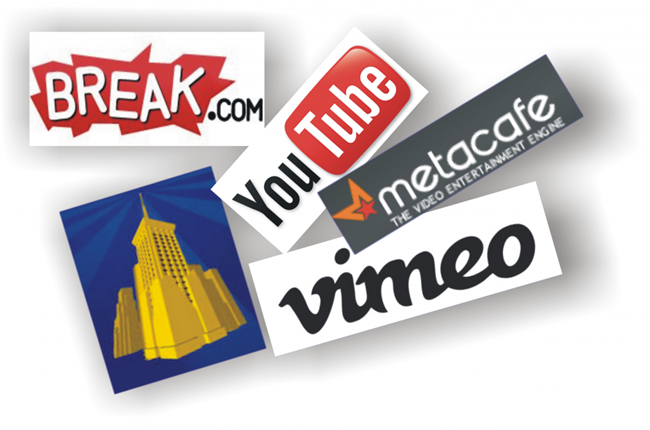 Before we begin to list down 8 best and awesome video sharing sites you must check out these Top 35+ Video Sharing Websites Excluding YouTube.
YouTube owned by Google and always comes at the Top among the Video Sharing SItes, it is one those biggest Video Sharing networks, that comes to mind at first to noise users. Due to high popularity it has occurred in 3rd ranking among top 10 most visited website. It provide users to upload their videos and to do so, it's not necessary to be a contributor at YouTube, but this feature is for all users of YouTube, but first the sign up is required. It provides unlimited access of uploading videos to its users. YouTube is highly categorized and have advanced search engine. It was first manufactured by three employees of PayPal namely Chad Hurley, Steve Chen and Jawed Karim in February, 2005, but soon YouTube was acquired by Google Inc. for about $6.5 Billion.
Vimeo is rapidly becoming both a video sharing network and a social network. On Vimeo users can watch videos to all those type which are mostly played in Television. It's main purpose is to provide always original content to its users. Users can upload videos to Vimeo although it is not large as YouTube is, but has all those common features like rating videos, commenting, adding videos to favorite and can also download videos directly from Vimeo in such formated files, i.e. Mobile MP4, SD. MP4 and Original MKV file. Vimeo was founded by Jack Lodwick and Zach Klevin in November, 2004.
Metacafe is video sharing website and have rewarded by entertainers because all over it categorized for entertainment. It satisfied such content sports, video games, movie clips, video songs and TV shows. The company's headquarters are located at San Francisco, California. It was founded in July, 2003 by Arik Czerniak (CEO) and Eyal Hertzog (Chief Technical Officer) further he is the founder and CCO. But Metacafe takes Erick Hachenburg as CEO of Metacafe Inc. in 2007.
Break.com is a much great video sharing website because its feature point is to behave as a place of entertain. It has an advanced search box people can search using many filter options. Users can submit rating to videos and comment on them. It offers to upload videos at least 60 Mega Bytes large. It was founded in 1998, by Break Media.
DailyMotion attracts users from all around the world, it's a diverse video sharing site on the web. It has search box users can search by category. Audience can make playlists, rating videos and also can share them. A user can upload video file up to 150 Mega Bytes and can upload in these formats AVI, WMV, MPG and Flash. It has rewarded as it's the second biggest video sharing company in the world. It's ranked as 99 throughout the world.
Revver is a video sharing platform which permit third parties to construct their own Revverized site. Basically, it attach advertisements in the videos and share ad revenue with video maker. It's Offering to display videos, can be downloaded as much as users can share them on the web. It doesn't have an advanced search engine but having search box in it you can search by category. It offers to upload a file that can be at least 100 Mega Bytes in size. Revver was founded in 2004 by three co-founders Steven Starr, Oliver Luckett, and Lan Clarke.
Being a video sharing program, it is listed in top 10 video share websites. An entertaining website and most preferred, having advanced search engine, comments, rating and subscribe videos by RSS feed. A person can upload videos in such formatted files, AVI, WMV, MPG, MOV and ASF. Users can support with Vidilife by Emailing, FAQs, and using forum for users.
Free to host your Videos as much as Photographs Stickam is the best. Among video sharing platforms it is listed to the end. Having all those features that should be in a video sharing networks. Additionally you can use Facebook apps, Android apps, Ipad + Iphone apps. It was launched in 2005 by Wataru Takahashi, Owner Hideki Kishioka, Co-founder Pamela Day, Chairman.