What is Theme Framework?
A Theme Framework is generally like a Parent Theme, in which child themes are installed. A theme that is designed for make a flexible foundation, quick WordPress development. By installing the best WordPress theme framework, your website design would be fully SEO optimized, easy to navigate, and with lots of other features.

What is Parent Theme?
A Parent Theme is not a normal theme, in this theme child themes are installed which further inherits the functionality of Parent Theme.
What is Child Theme?
A Child Theme is installed only when its parent is installed and activated first, the child theme inherits the functionality of its parent Theme.
So, this means WordPress is engine of the car, the framework is the frame of the car (parent theme), and the child theme is the paint of the car (the design).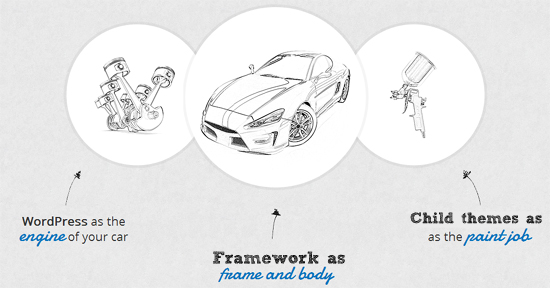 Top 5 Free WordPress Theme Frameworks
PressWork by c.bavota and Brendan Sera-Shriar
PressWork is a WordPress theme framework that offers great facilities, it's very neat, clean and very easy to use and the Framework 100% is for Free. The PressWork also has few themes that are not for free and are called premium themes, to use them we have to purchase them. The Themes it provide, are much lovely and are built using HTML5. The website that is built on PressWork would just be the awesome, and has lots of features. The PressWork was developed by c.bavota the co-founder and Senior Developer of PressWork and the Brenden Sara-Shriar A.K.A. digibomb the co-founder and Senior Developer/Evangelist of PressWork.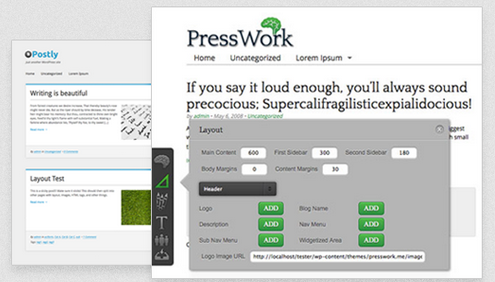 Demo | Download Themes | Download it
Thematic by Ian Stewart
Thematic WordPress Theme Framework comes at the Top Position among the Top Free WordPress Theme Frameworks. It was created by Ian Stewart. The Thematic is a Free, open source WordPress Theme Framework. That's listed always at the top position because that's free with lots of cools features. I have attached a demo link with the summary, click the link below to see the demo. I know mostly you wouldn't like it after having a look at demo, as it's not designed very well, looks cool, without colors. So, I would say that it's just a Parent Theme, you have to install a Child Theme for a better theme, after installing the child theme the theme would be fully customizable, SEO optimized, colourful, and having many different features.
Demo | Download Child Themes | Download it
I must say first that the Gantry Framework by RocketTheme is a wonderful and fully customizable WordPress Theme Framework, with much features. It's available to download for both biggest Content Management Systems (CMS) Joomla and WordPress. The RocketTheme also offers Premium Themes as well as Free Gantry Theme Framework. You should try out the Demo, you would of course like RocketTheme's Gantry Framework. To download it just follow the link below, saying Download it.
Hybrid
by 
Justin Tadlock
Hybrid WordPress Theme Framework is also a free and powerful Framework, it has many features but the features that comes at top are that its 100% free and very easy to use. It was built by Justin Tadlock.  Hybrid gives about 14 custom page templates, with multiple widget-ready areas, and the child themes are available having lots of great features, the developers always like to use it and love it. Hybird for guides and tutorials, offers its helpful Forum.  Most Recently on June 5, 2012, they also released update of Hybrid Core 1.3.1 with more features.
Demo | Download Child Themes | Download it
Whiteboard Framework by wpLifeGuard
That's a WordPress Theme Framework, it is ranked in the top lists, as that's also fully free and open source, like the frameworks listed above, it also saves time, its SEO optimized. It's outstanding feature is its responsive design, mean that it fits itself automatically on most devices. So, by this way it increases Traffic in a better way. Many bloggers use and love it, because its  responsive design. It was developed by wpLifeGuard. wpLifeGuard gives access to a lot of videos, created to teach the web masters Advanced WordPress.