PHP is getting more and more common these days in the information technology world. Out there are many websites already been developed with the help of php server scripting language even the world's most popular social media platform Facebook is also built with PHP. So, if you are looking for best PHP scripts for creating a video sharing website online then you should read this article because in this article you find the best 10 PHP script to start video sharing website like YouTube, DailyMotion, Vimeo, etc. However, see a complete list of popular video sharing websites then you must read the two recommended articles here:
Recommended:
Top 8 Best and Awesome Video Sharing Websites of 2013
Top 35+ Video Sharing Websites Excluding YouTube
10 Best PHP Scripts to Start Video Sharing Site
Video Venue: Community Script
With video venue php script you can create a complete functional video sharing website. This php script allows your users to post unlimited number of links, each post will automatically assigned a unique link, you users can provide a description to posts, they can comment on videos, reply to other comments, follow unfollow users, notification when someone comment – reply – follow. You can assign infinite category to any post, advance search functionality with robust RSS feeds for each category – tags – users. Video venue also support translation to any language via the language file, SQL query caching to reduce server load, sitemap for overall posts of your website. Video Venue php script also allows your user to register with their email address and also connect with their Facebook and Google+ accounts to login intantly but email confirmation is required to protect from spams. In my opinion, video venue is a good community script to build a video sharing website but you must have cloud/VPS server to run such a big community.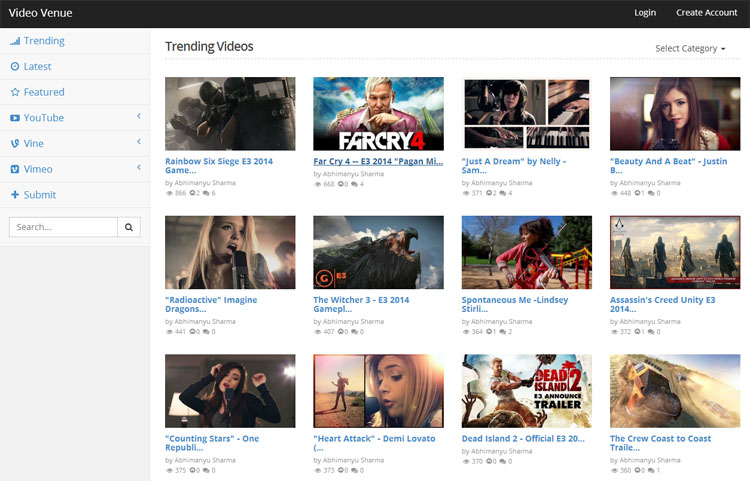 Viral Media Portal
Viral Media Portal is advanced yet easy to setup and use PHP script that lets you create media publishing website like videos, pictures, gifs. It lets you embed videos from vine, Facebook, YouTube, Vimeo, Dailymotion and Metacafe. Support picture watermark and video and gif thumbnails watermark, Fully automated thumbnail generation and advanced admin panel to almost control every aspect of the script. You can edit and create as many pages as you want from admin panel enable or disable guest submission, Generate Sitemaps, Enable RSS Feeds Disable specific portions, Ad Management, Social Media settings and lot more. Awesome features.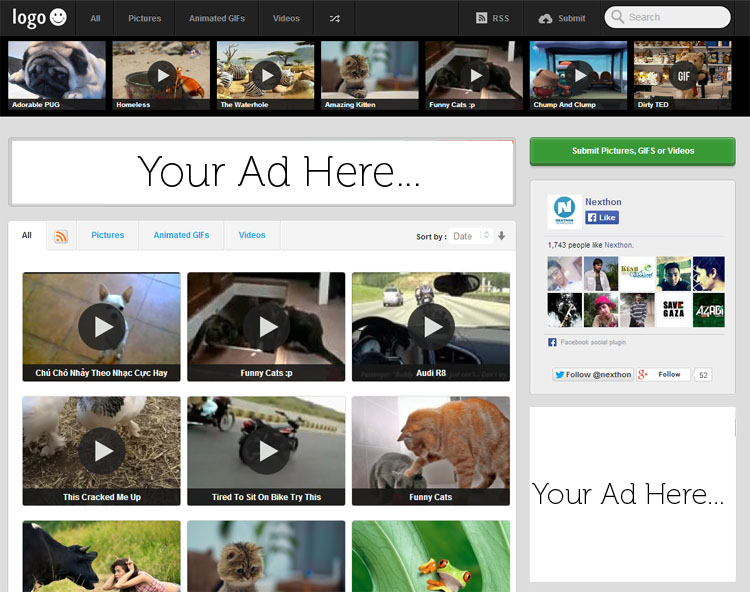 Video db
Video db script is used for creating your own collection of YouTube videos which will be displayed in your site. Using Video db php script you can add, delete & view categories, edit, & view videos. Javascript / Ajax rating, add & edit moderator users. Edit site information (title, tags, description, template, default language). Select featured videos. Rating videos. Choose from 3 templates. Multiple languages, ability to create additional languages – see instructions in documentation.
Memento Viral Media Sharing Script
Memento viral media sharing script is an internet meme script that especially build to give an interface of 9GAG, imgur clone. This script works awesome with user registration functionality (Facebook & Google). You can easily upload (Image, Video, Vine, GIF).
PHPClips Video Sharing Platform
PHPClips is now at V2.0 release. It is a powerful video sharing platform, supporting uploads from PC or from YouTube, themes, plugins, video processing with ffmpeg, and much more features. This video sharing script allows its users to upload videos from PC as well as grab videos from YouTube through API v3.
GagShow – Viral Media Script – 9Gag.tv Clone
GagShow is a responsive, animated, and complete funny website mainly based on a slideshow. In GagShow, you can add some images (static or gif) or some videos. The website is really easy to use and user-friendly. It works with an admin backend, just like a CMS, so no programming skills are required. You can fully customize it, from the colors (with a simple color picker in the admin) to the texts to display. So with this script, you will be able to create a very unique website.
videoBox – Video Sharing Platform
videoBox is a video sharing platform based on YouTube API and your own videos. With videoBox you will be able to create your own video sharing portal through which you can share your videos with other people and make money from advertising and affiliating.
Media Portal Script with Responsive Themes
Media Portal Script helps you collect & organize your media like photos and videos from web and display on one platform. Media Portal can help you to fetch and show your videos,playlists from youtube,dailymotion,vimeo. Media Portal allow you to fetch standard youtube feeds like most viewed videos ,most commented videos , top rated videos too.