Well, if you increase the time of display light in your Samsung Galaxy S5, will affect on your battery life. However, you can use the Android Battery Saving Apps to save your device battery. You will probably try to increase the time of display light because it irritates and by default the Galaxy S5 screen shuts off just after 30 seconds.
Maybe increasing the time of display light will be your very first step to extend the timeout period of your Galaxy S5 display light. After 30 seconds the Galaxy S5 screen shuts off which means you will need to press power button to wake it up again and if you have enabled screen locker on your Galaxy S5 then you will go through the process of unlocking (That's why it irritates).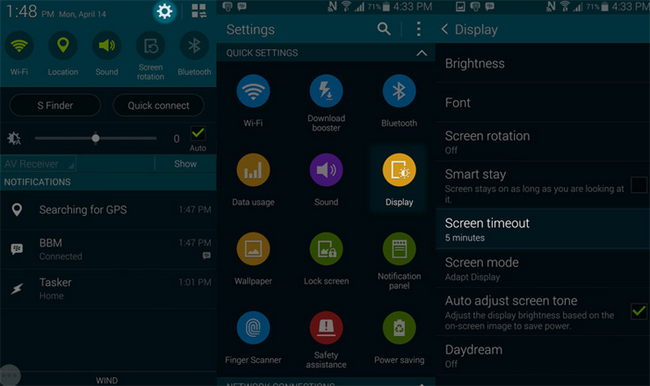 Increase Display Light Timeout in Samsung Galaxy S5
Follow the steps below:
First of all, swipe down on the top of Galaxy S5 screen
Tap Gear icon on the top-right corner
Tap the Display icon from the Settings
Finally, tap over the Screen Timeout and set the time with which you feel that you will be comfortable with. Click the screenshot for more details.
Any Comments ? Leave them below in the comment box.