(Last Updated On: April 11, 2014)
Safe mode is one of the best way to disable third-party applications access, if you are Windows OS user you might probably familiar with safe mode reboot option. Using safe mode you can easily find the rising issues in your Android device because safe mode is the only source to disable third-party apps and run the device with its built-in features and functionality to easily troubleshoot and solve the issues that your device is having. However, in this article I'll guide you to  easily reboot any Android smartphone/tablet into safe mode.
Hint: If your Android device works fine in safe mode then the problem isn't in your Android device but the issues/bugs are in the third-party apps that you downloaded and installed in your device.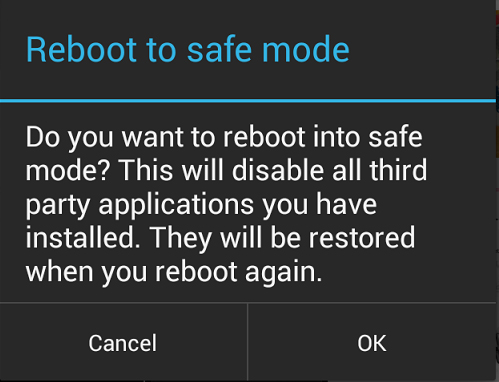 Rebooting Any Android into Safe Mode
You will find this guide the one and the easiest ever that will help you to reboot Any Android device into safe mode, here you go and follow the steps below:
Press Power-Off button of your Android device
Now, you will see a menu with some options
Long press or tap the Power-Off options from the menu
Now, here you will see a window asking you for Reboot to Safe Mode
Just tap OK button to reboot your Android into Safe Mode

Kindly, add comment if your device is not supporting the above procedure (Make sure you mention your device in your comment)