360 Clean Droid is a great Android application that helps you to clean up your Android smartphone/tablet from unused data like temporary files, cache, history, etc. It is easy, safe, minimal, and powerful app that will magically increase your Android device speed. This app increase your Android device speed by one-click functionality and increase the memory of your Android device. 360 clean droid is lightweight with a size of 3.6 MB and of course your Android smartphone/tablet can observe this.
In addition 360 clean droid app have a super rubbish cleanup ability that it can save you up to 10,000 photos. Because of this application's powerful features stored within 3.6 MB package of the app, this app can perform 50 times better than other similar applications can do. Almost many people are now using 360 clean droid Android app to clean up their smartphones/tablets within one-click function.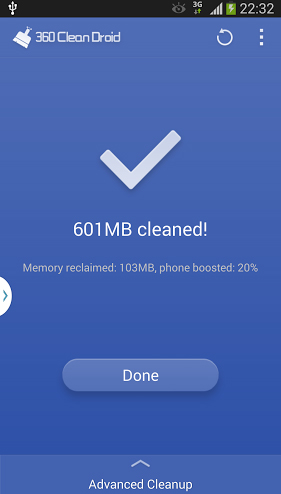 This app can also improve the speed of your device much like Android device cleaner apps does. 360 clean droid app clean up has become so convenient. Protect your privacy information that you want to keep personal, everything is safe.