(Last Updated On: November 2, 2017)
As we know the Android is getting more and more popularity day by day and people are developing great Android applications to give something what Android users are looking for. So far, we know that how to lock Android screen via regular keypad, how to pattern lock on Android device (Did you forget the pattern lock of your Android device, click here to find how to remove it.), and password locker apps. In this article, I have found something interesting to share with you which is voice unlocker Androidapp, however there is also another voice screen locker Android app that you can use to unlock your Android device with your own voice.
Voice Unlocker for Android
Voice Unlocker is the only screen locker that will lock your Android device with your voice and to unlock that voice locker you must have to speak the same words. Manual override (with keyboard) is available when you can't say your unlocker code in public. It's been a unique screen locker app that unlocks with your voice command (Passcode provided by voice). Unlock you phone with your voice or keyboard and show off your cool lock screen to your friends. Voice Enabled Lock screen is the only one of its type giving freedom to unlock hands free.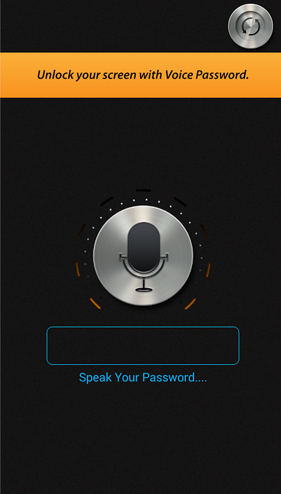 This application is used by many Android users and have a good rating on Google play store. If you are looking a unique way to lock your Android smartphone's screen then you must try voice unlocker Android app.