(Last Updated On: November 2, 2017)
Bored of having same screen lockers, voice screen locker, and pattern lockers? Wanna try something new? Sure thing. Don't worry, because today's app is about locking screen of your Android device with the modern UI design of iPhone. Yeah, after the best Android launchers you might want to try something new.
This is what you must try, yeah I mean it. If you have Android smartphone/tablet and want to customize the lock screen, just the way Apple iPhone 6 then this article can help you. If you are eager to be the first person who owns the iPhone 6 (Maybe imaginary :D) read the rest of article where you can get iPhone 6 screen lock for your Android device.
IOS 8 Lock Screen
iOS 8 Lock Screen is an Android application that helps you to transform your Android device screen just like iPhone 6. IOS 8 lock screen will realize your dream. It is the new free iOS 8 theme screen lock with plenty of iOS 8 wallpapers which will make your phone looks like an iPhone 6. Not only the appearance but also the feature and function highly simulate the iPhone 6 launcher lock screen. Please no hesitate to download and prank your friends.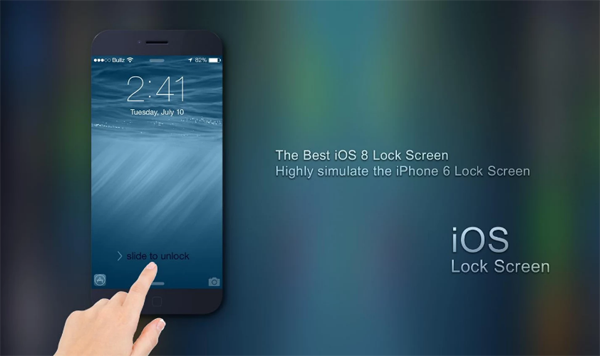 Feature:
Highly simulate the iPhone 6 theme. It is the best app iOS 8 for Android
Content plenty of beautiful iPhone 6 wallpaper for your option
Slide to unlock
set security pin lock via ios keyboard
comprehensive settings for personalization