When it is about the security and privacy of Android smartphones/tablets we must take some most important and extraordinary steps to secure our Android devices because these days hacking is become so common. Hackers can hack your Android device and get in your smartphone/tablet to steal your personal data. To make your Android devices safe from hackers you must check out the following security apps for Android. There is another way to secure your personal information like credit cards information, personal passwords, important docs by using password locker Android apps that will save you data from being stolen and all you need to do is to remember the only one application vault password rather remember each password of your accounts registered across the web. I'm going to list down some of the best 8 security apps for your Android and I hope you will be able to secure your Android smartphones before getting vulnerable.
Quick Tip: Avoid using unauthorized Android apps which you feel has no potential.
Recommended Reading: Top 10 Best of Best Free Antivirus Software for Windows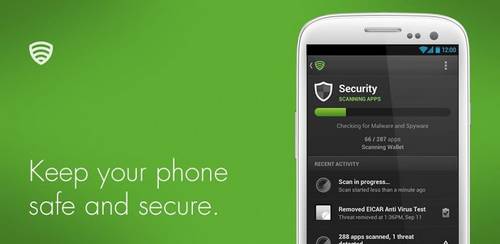 Security Apps for Android
1. Lookout Mobile Security
It is an application that is responsible for protecting the mobile all the time against all threats such as fraudulent links, malicious applications, insecure Wi-Fi and many more. It is also used for creating a backup and accessing data for restoring it online. In case the phone gets lost then it can be tracked on Google map eve if its GPS is turned off and can activate the loud alarm on silent mode.
Get Lockout mobile security app
2. CM Security & Find My Phone
CM security is one of the most used online security software which is now made available for Android users. So that Android users can also secure their smartphones/tablets. Powered by both local and cloud engines, and supported by experience with 200,000,000 users and 16-years of history in the PC & mobile security industries. Repeatedly ranked first in tests carried out by AV-TEST and AV-Comparatives. Using this app, you can locate your stolen phone on Google Maps, make your device yell so you can find it easily, and lock your device remotely. Anyone who enters an incorrect passcode on your device three times in a row will have their picture taken and sent to your email address. CM security fix system vulnerabilities and scan new apps, updates, file systems and websites to ensure your device's safety and your privacy in real-time.
3. Mobile Security & Antivirus
Mobile security Android application takes care of your privacy, find your smartphone/tablet when you lose it, backup your photos and videos, improve your Facebook privacy and identify malicious (bad) application that steal your info including fake banking apps. Trend Micro Mobile Security & AntiVirus provides 100% detection according to Av-test.org and is also certified by PCSL and AV-Comparatives.
Get Mobile Security & Antivirus app
4. Mobile Security: VPN Proxy & Anti Theft Safe WiFi
It is a superb security application. It has all the features including SIM and location tracking, restoring data, locking and remote wiping. Along with the contacts user can also create a backup of videos and photos. Tracking feature gives all the location that is under the vicinity of the device and works even when the GPS is turned off.
5. Kaspersky Mobile Security 9
It includes a long list of features such as firewall, parental control, data encryption, privacy protection, anti-spam, antivirus, and anti-theft. It can track the phone on Google map and give its coordinates. It can delete all the data of the phone even after the sim has been changed. It can also hide all the messages and calls remotely, automatically or manually.
Get Kaspersky Mobile Security app
6. Norton Mobile Security Lite
it protects the phone from unauthorized access , theft, phishing, malware and viruses. In case the phone gets lost then its data can be cleaned and be locked remotely. Even while browsing, the phone is protected. If the device is being compromised in any way then a threat will be eliminated. It can block all the unwanted calls and messages.
Get Norton Mobile Security Lite for Android
7. Avast! Mobile Security
It is another famous application that offers many features for free. It provides real-time protection, message and call filtering, application manager, firewall, web shield, privacy report and customizable updates. User can locate, wipe and lock the phone remotely even if the SIM has been replaced. App Disguiser allows the user to customize the application's name so that personal data may not be accessed very easily.
8. Webroot SecureWeb
It is an application that helps in securing the browsing of data. It allows the user to browse through the internet in a safe and secure manner. It can easily identify malicious websites and phishing. Other features included in it are remote locking, message and call blocking, alarm, location tracking, and antivirus. Apart from these features, it also offers SIM locking, application scanning, and remote wiping facility.