Usually the Unlocked Bootloader Warning comes just after flashing any ROM (Custom or Stock) on Motorola Android smartphones. If you are using Moto X 1st or 2nd gen. then you should try out the Moto X Toolkit which is as easy as odin (Samsung smartphone flashing software) for updating Android version. But the thing that appears after updating Android version on any Motorola smartphones is "Unlocked Bootloader Warning". And I'm sure no one likes it and also it looks more like the device is at risk and damage. Also, it is considered to fix and get rid of 'Unlocked Bootloader Warning' for security reasons.
It usually appears when you boots up your Motorola Android smartphone where the first message on the screen display, looks like: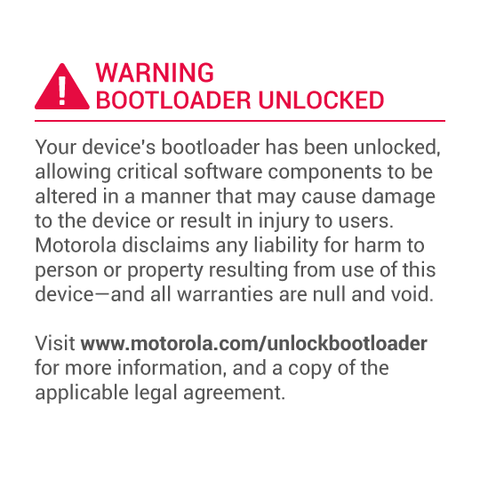 Although Motorola Android smartphones manufacturer has already ignored the unlock the bootloader warning on its other upcoming devices but on old devices the unlocked bootloader warning still sucks.
But if you really want to get rid of unlocked bootloader warning then you must look over official Motorola site but still I am going to cover this topic mainly for Moto X/Moto G/Pure Android smartphones because I use them personally which are the best one for me so far.
So, today I'm going to give you simple ways to get rid of Unlocked Bootloader Warning in case if you have just unlocked bootloader of your Motorola device.
What is Bootloader?
Bootloader is the heart of Android Rooting because bootloader allows you to install Custom ROMs in your Android device. As Custom ROM is not as the same as original OS (Stock ROM). And Custom ROM can cause your phone and already installed apps to stop working exactly how it should work.
Things you should remember while unlocking bootloader
Let me tell you that on unlocking the bootloader will void your phone's warranty. Weather it's an Official Firmware or Unofficial Firmware on unlocking the bootloader on your device, the phone manufacturer will not be able take any guarantee of your device to work properly.
The methods can be different for unlocking bootloader on Android smartphones depending on device manufacturer.
Get rid of Unlocked Bootloader Warning on Motorola Android Smartphones
It is quite simple to stop unlocked bootloader warning message appear on our Moto X, Moto G and other Moto series devices in face all we have to do is to simply replace the warning message with a new one. Don't be confused, I'll show you each and everything to replace that warning message with Motorola Logo and your device will boot up as usual.
For you kind information, let me tell you that the logo can also be used on any new generation Motorola device to replace the warning message like Moto G, Moto X Style, Moto X Pure and so on. But the bad thing is that some of these devices have not been tested yet by us. We are going to setup ADB and Fastboot while unlocking the bootloader. So let's begin…
Make sure you do this first:
First of all, setup ADB & Fastboot which you can download the minimal ADB and fastboot tool from here (unzip it)
Install Motorola USB Drivers on your computer.
Open Settings > Developer options and enable USB Debugging on your device.
Go to Developer options and Enable OEM Unlock.
Get rid of 'Unlocked Bootloader Warning' in Moto X/Moto G/Pure via Fastboot
First of all, download the Motorola logo file and extract the .zip file in your PC where you can track easily
Make sure you have set up ADB and fastboot on your PC (To setup ADB and Fastboot) or get the quick ADB & fastboot installer from here
Do make sure to install Universal ADB USB drivers in PC because if these are not installed then you will not be able to see USB connected message in Recovery mode screen like this: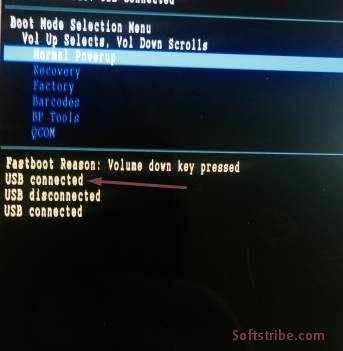 Now, boot into recovery mode of your device (Press Power + Volume down button and release the volume button then power button after 4 seconds to see boot recovery mode)
Since you are in recovery mode now.. Kindly plugged in your device to PC via USB cord ( you will see USB connected message)
Go to zip location and extract the zip in a folder
Now, open that folder and right-click on empty space of the window holding shift key
From the drop down options, you have to click on open command window
and type " fastboot -windows flash -moto logo logo.bin "
Disconnect your phone from PC and press power button
You won't see the bootloader warning anymore…  You'll start to see the original logo of your Moto X now.
Notice that this method can work with Moto G,  Pure/Style as well. If you have any problem while going through the process let me know I'll put video tutorial about it.