In this article, I've reviewed the best Android apps that will help you to block pop-up ads that comes in the middle of using free Android apps. These best Android apps not only block the ads but also remove them and prevent them from coming up in future. So, now you can enjoy using free Android apps without any interruptions. Hope, you will like these apps but I suggest you guys that if you are using any ad blocker application that you think to be added in this article feel free to comment below with Google Play link.
Ads Blocker Android Apps
Adblock Plus for Android
Before you download Adblock Plus to your Android device, make sure app installation fromunknown sources is allowed by Android:
Open Settings and go to Unknown sources option (under Applications or Securitydepending on your device)
Tap the checkbox and confirm the upcoming message with OK
TrustGo Ad Detector
TrustGo Ad Detector scans and protects your Android smartphone from potential privacy violations and identity leaks through ads displayed by apps via the most commonly used advertising networks. It is common for advertising networks to collect information on how you use your device.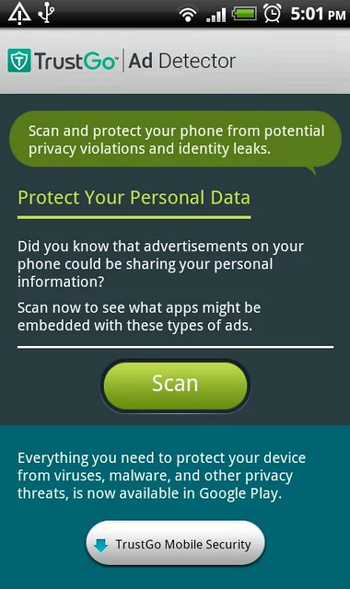 Anti-Push Notification Ads for Android
Anti-Push Notification Ads is a simple Android app that detects other installed applications which appear to use known notification ad frameworks and offers the user the ability to easily un-install them by touching the application in potentially suspicious apps.
Note: If your device is running Android Jelly Bean 4.1 or higher, you may not need this app any more!
Get Anti-Push Notification Ads
Ad-Vanish Lite for Android
Ad-Vanish Lite Android application allows you to say "Good Bye" to Ads that appears in your free Android apps. Here is something waiting for you. Blocks Ads from any of the apps you ever installed(ONLY APPLICABLE FOR APPS THAT CAN BE USED WITHOUT INTERNET CONNECTION).
NoRoot Ad-Remover Lite
Are you a person who gets irritated by seeing Ads in a game? Annoying pop up Ads killing your mood while you game? You are not ready to root your device for blocking Ads?
Block Ads from:
Angry Birds collections
Where's my water
Cut the rope
Temple Run
Fruit Ninja
Paper Toss, and other 100000+ games in Android.
ADS_REMOVER Android
Ads_remover Android app will help you to block all the ads coming from Android Applications. You must have Android Eclair 2.1 or upgraded Android version.
Notification Ad-blocking for Android
Notification Ad-blocking for Android is the powerful malicious notification ad-filter and ad blocking app on android. Protect your smartphone from ad or junk notification harassment. To help user to filter dubious app which has notification advertising.
Get Notification Ad-blocking for Android