In today's article, I have collected a big list of WordPress plugins for rating system. The rating system will allow your visitors to show their opinions towards a specific article by thumbs your article up or down (depends). And by adding the rating system the administrators will be able to know whether a certain written article is useful for his blog users or not. So, here are top 20 WordPress plugins for rating system. Hope you will like these plugins.
1. GD Star Rating
GD Star Rating plugin allows to add rating and review system in your posts, pages and comments in your blog. You can set many options for displaying the rating stars, and add widgets into the sidebars for displaying top ratings and other statistics generated by the plugin.
2. Author hReview
Author hReview WordPress plugin adds rating to review articles on schema.org. This can improve your search traffic by displaying SERP results more eye-catching. This plugin supports only the editorial ratings submission means only editor and author have the authority to add rating. The visitors of your site are not involved in the rating or review process, this means rating reflects only the author's opinion.

3. WP-PostRatings
Adds an AJAX rating system for your WordPress blog's post/page. Yet compatible in all major browsers and WordPress versions up to 3.0+.
4. kk Star Ratings
kk Star Ratings allows blog visitors to involve and interact more effectively with your website by rating posts. This plugin displays a user defined amount of star ratings in your posts/pages. Supports Google Rich Snippets for catchy results in search. Now the ratings will be indexed in Google search.
5. Post Ratings
Simple, developer-friendly, straightforward post rating WordPress plugin allows your site users to rate posts (of any kind). Relies on post meta to store avg. rating / vote count. Display a widget with the top rated posts in your sidebar. Also this plugin allows you to create your own rating formula.
6. Rate This Page Plugin
Rate This Page is a Wikipedia article feedback tool like plugin where you can rate certain posts/pages of your blog.
Features:
Ability to select where the plugin UI will be positioned on the content
Ability to choose insertion if either on Page, Category or Both
Admin can view reports of rated posts or pages
The label can also be customized based on the like of the admin to be its label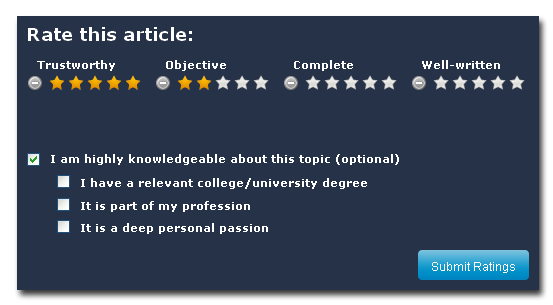 7. SN Rating
SN Rating is an enhanced rating plugin for WP content which has got unmatched features that are still unavailable in existing rating related plugins. Along with post specific rating it provides geo location tracking.

8. Author Post Ratings
Author post ratings WordPress plugin allows post authors to assign a simple 1 to 5 stars rating to a post, page, or custom post type, which will then be displayed on the post.
9. Review Ratings
Easily insert star ratings for your movie or book reviews. Simple plugin for inserting ratings into WordPress posts. Adds two shortcodes, [rating=5]and [relatedratings=4], which allow you to insert star ratings.
10. Simple Post Ratings
Simple post ratings WordPress plugin let's you assign ratings to your WordPress blog posts. Easy to use it's intuitive interface with a number of options that can be modified including rating scale, position, custom rating images etc.
11. EC Stars Rating
A super fast WordPress star rating plugin, optimized for SEO, and with a really low impact on page load (built with CSS + a bit of HTML, plus the strictly required JS for working perfectly).
12. Purple Heart Rating (Free)
Are you looking for a cool WordPress rating plugin which generate rating stars in Google search results and also offers your blog visitors a pro-active way to give feedback about your blog content and should be highly customizable to your needs? If so, please try Purple Heart Rating (Free) WP plugin.

13. Post Rating System with Facebook like (Elo style)
With this plugin you can let users rate posts agains each other just like it worked with pictures on the famous facemash by Mark Zuckerberg.
14. Rate My Whatever
Rate My Whatever enables you to add a rating system to your blog posts in WordPress. Simply download, install and you will be able to work with this plugin once you add [ratemywe] to your posts. Your users can only vote 1 time per IP and post.
15. Post Rate
Post Rate plugin will insert five stars rating system under each article. Visitors to your website can rate your articles between 2 to 5 stars. But unfortunately this plugin is available in German language.
16. Rockhoist Ratings
Rockhoist Ratings is a thumbs up and thumbs down style rating widget for your WP blog posts. It's easy to use and customize.