Year after year whenever the WordPress developers upgrades the version of WordPress, they give a free default WordPress theme along with the new version. To provide a basic understanding for beginner developers out there. Here is a quick chart after that what WordPress has done from 2010 to 2013.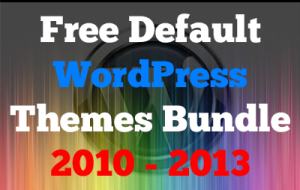 In 17 June 2010, the WordPress developers released the 3.0 version of WordPress in which a new theme Application Programming Interface (API); the merge of WordPress and WordPress MU, creating the new multi-site functionality, a new default theme called "Twenty Ten", and many less visible tweaks. ~ Thelonious

In 23 February 2011, the developers of WordPress released the 3.1 version of WordPress. ~ Reinhardt

In 4 July 2011,  released only after four months of version 3.1, it mostly focused on making WordPress faster and lighter. ~ Gershwin

In 11 December 2012,  support for the Retina Display, color picker, new theme: Twenty Twelve, improved image workflow ~ Elvin

Coming soon WordPress 3.6, New theme: Twenty Thirteen; Admin Enhancements, Revisions Update, Autosave and Post Locking.
Free Default WordPress Themes Bundle