As there had been almost four default WordPress themes available that every new year WordPress community publish since after 2010 and this time in 2013 WordPress published a new WordPress theme called Twenty Thirteen. Every buddy who is on personal development niche are diverting their themes to this new default WordPress theme Twenty Thirteen. There have been several questions about the default WordPress theme Twenty Thirteen one of those is how to customize the colors of Twenty Thirteen default WordPress theme. In this article, I'll show you a quick way to customize the colors of your WordPress blog's theme Twenty Thirteen.
By the way, Thirteen Colors is simple WordPress plugin which helps you customize the colors of twenty thirteen default WordPress theme. Using this plugin, you will be able to customize the bold colors of WordPress Twenty Thirteen Theme, directly within the customizer on your WordPress admin screen.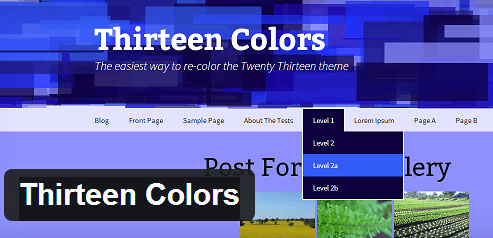 Of course you would like to customize your Twenty Thirteen theme because of its boldness and almost no one likes it. Even though if you don't like its vibrant shades of orange color then just activate Thirteen Colors plugin in your blog and head over to the theme customizer (Appearance → Customize), and adjust the default colors to the shades you like.
Header images are designed to be abstract art for Twenty Thirteen, so Thirteen Colors also integrates with a neat tool that can generate a custom header image in your colors. By the way, despite the plugin's name, there are only eight customizable color fields to streamline the process as much as possible. Twenty Thirteen's original colors are condensed into these eight blocks, but most of the changes are visually indistinguishable.