You wanna know the best WordPress plugins to prepare your blog for Christmas in 2012 however in this article we have collected the best list of WordPress plugins that help us to prepare our WordPress sites for Christmas.
Yeah, we are going see what we can do with these top 10 Christmas WordPress plugins below… Apparently, we can add Christmas countdown widget that'll tell you the days left in Christmas, snow falling effect, we will add snowman, Santa Claus, Christmas tree with Xmas lights. So are you ready to decorate your site for Christmas now? Of course you are… Keep on reading to be able to add the most important things in your site that makes it better for Christmas.
10 WordPress Plugins for Christmas 2016
Following are the best WordPress plugins for Christmas 2016. Hope you will like them.
1.WP Super Snow (Falling Snow, Customizable)
WP super snow is a really beautiful snow falling WordPress plugin for any holiday or Christmas site. It is developed with the combination of jQuery and CSS3 that makes it an awesome free Christmas snow falling effects plugin. It is very lightweight and you can add falling snow flakes to your website and customize the color of snow flakes using various configuration options provided in your WordPress dashboard.
2. Christmas Countdown Widget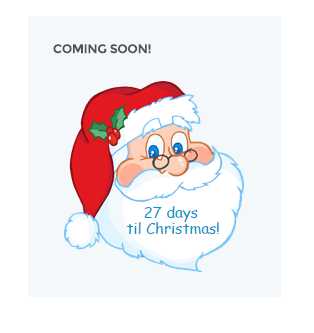 To add the Christmas countdown widget on your WordPress site just install Christmas Countdown Widget plugin and activate it.
After installing the plugin just go to Appearance > Widgets and simply drag and drop the widget called 'Santa's Countdown' in any sidebar where you wish to display the Christmas countdown widget. There are no options to take care of, the plugin works automatically and countdown automatically gets updated each year and starts over again.
3. Christmas Decorations
Christmas Decorations WordPress plugin helps you to decorate your site by letting you add snow falling effect on all pages, Christmas countdown that will show in bottom bar on all pages of your site to display the days and time left in Christmas. Christmas Decorations is very lightweight plugin and easy to use. Yet, it is compatible with all major browsers, well-tested with ie10.
Get Christmas Decorations WordPress plugin
4. MMX – Make Me Christmas
Make Me Christmas WordPress plugin helps you to surprise your site visitors by adding Christmas hanging, bunting, snow fall effect, snowman, Christmas tree and of course Santa Claus. You can control display footer items on top of content or as background. However, this plugin is not working properly in Internet Explorer and Mozilla Firefox because they don't support CSS3 animation for SVG quite perfectly.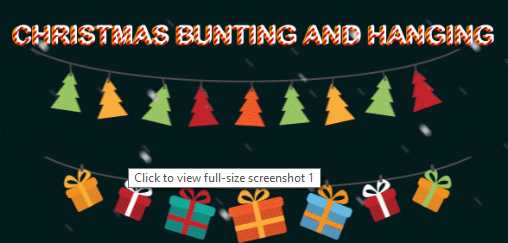 Get MMX – Make Me Christmas plugin
5. Xmas Lights
Xmas lights helps you to add nice looking animated Xhristmas(Christmas) Lights to the top of site.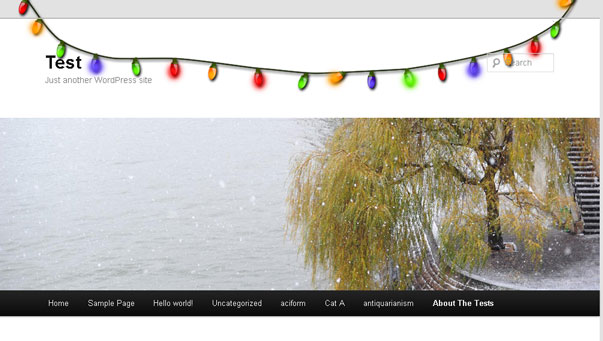 6. Random Christmas Fact Widget
Random Christmas fact widget WordPress plugin displays 40+ amazing random Christmas facts in a form of widget that you will have to put in any sidebar where you wish to display the facts and widget refreshes the fact each time a visitor refresh the page. The widget will appear in your sidebar without any CSS formatting to blend perfectly into your site.
Get random Christmas fact widget for WordPress
7. PCF Christmas Countdown
PCF Christmas Countdown plugin works out-of-the-box that means you don't have to do any thing, once the plugin is installed, you can place the shortcode wherever you want.
Shortcode:
Use the shortcode [pcf_xmas_countdown] to output the countdown. The countdown will output in days by default (e.g '105 days until Christmas!'). This enables you to change the output type.
[pcf_xmas_countdown type="days|weeks|sleeps"]
Get PCF Christmas Countdown plugin
8. Hello Christmas
Christmas lovers can now enjoy the holiday spirit in their WordPress dashboards. So for most of the year we can enjoy snippets of a classic jazz tune displayed in our dashboard. But when the holiday season rolls around and you are feeling the Christmas spirit, this little plugin presents a nice alternative.
9. Christmas Lights
Christmas lights plugin adds nice looking animated Christmas lights to the top of your WP site and enjoy winter. It uses just a peace of JavaScript and very lightweight containing only 1.6 kB.
10. WP Christmas Class
For Web designer or developer: Frankly, you won't understand to use this plugin unless you have the basic understanding of HTML and CSS web languages and I would prefer you to leave this plugin but if you are web designer here then you might wanna try this out.
Using WP Christmas class plugin you will be able to define a date range and that'll automatically add a custom CSS class to your body tag on a scheduled date. Using this custom class, you can use simple CSS to change the entire look and feel of your website during the festive season.
Get WP Christmass Class plugin