Hiding the rest of external links from your WordPress blog posts/pages helps you to save Pagerank (PR) juice. We usually use tons of external links in our blog posts/pages to share wide variety of knowledge to our visitors but have you ever realize that this may affect your PR juice.
What is PR Juice?
Let me tell you a little bit about PR juice, it's the abbreviation of Pagerank juice and often referred to as link juice. What really people mean when they mention PR juice or link juice is basically the strength of the links targeting a specific page and the external links which being are shown on that page at this point the link strength which is passed to these external sites, this being the link juice or PR juice. We also use affiliate links in our blog posts/pages and hiding them all at once from your blog posts, pages, comments, author page, etc would be a really great idea. So, I just realized to let you know about such little things which affects your blog SEO but you don't know sometimes how…
Read: Plugins that Makes your WordPress blog SEO friendly
In this article I'm going to show you that how you can mask external links and convert them into internal links in WordPress? Let's start…
WP-NoExternalLinks
This plugin allows you to mask all external links and make them internal or hidden. It uses PHP redirect and attributes. Now, you don't even need to worry about PR dropping due to tons of external links inside of your blog. You can write any kind of http link which will become internal link or hidden once the plugin enabled. Yep, the links will still be usable :).
How it Works?
To get started with the plugin, all you need to do is to follow these steps:
1. Download, install and activate the plugin called WP-NoExternalLinks
2. Once activated, navigate to Settings > WP-NoExternalLinks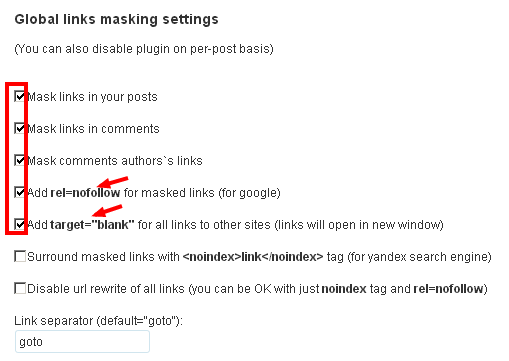 3. You can even add a custom redirect page over external links with a certain period of time and add your message on that redirection page too.