People usually try to add custom links over WordPress gallery images and in this way I've found that I should write an article about how to add custom links in WordPress gallery images so easily without any hassle. If you've ever had a WordPress gallery of Product, Staff, or other images and trying to add a custom link over image gallery but could not add custom links then don't worry I'm here ;). As we have already written an article about how to add an image gallery in WordPress without a plugin and now just about to show you the method of adding custom links over gallery images in any WordPress blog. So, I hope you will like article and try sharing it across your favorite social media profiles.
Adding Custom Links in WordPress Gallery Images
WP Gallery Custom Links is WordPress plugin that allows you to add custom link over any image inside the gallery. What actually this plugin does is that it adds a Gallery Link URL field when editing images. If the image is included in a gallery, the Gallery Link URL value will be used as the link on the image instead of the raw file or the attachment post.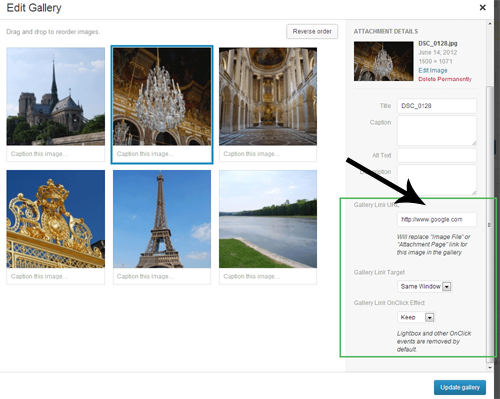 This plugin is designed to work even if customizations have been made via the post_gallery WordPress filter; instead of replacing the entire post_gallery function, it calls the normal function and simply replaces the link hrefs in the generated output.
Features that WP Gallery Custom Links Plugin Gives:
You can specify a custom Gallery Link URL on any gallery image
Use "[none]" as the Gallery Link URL to remove the link for that gallery image
For each gallery image, you can select a Gallery Link Target ("Same Window" or "New Window")
For each gallery image, you can select how to handle Lightbox and other onClick events ("Remove" or "Keep")
And much more…