Sometimes, people usually want to add some extra things in their blogs such as slideshow, image galleries, and more to make their blogs more informative. Yeah, I know as I also do… And today, what I'm going to show you that How to Add Eye-Catching Slideshow in WordPress Blog.
As I have already written an article about adding an image gallery in WordPress without a plugin. So, I hope you will like this article about adding an eye-catching slideshow in WordPress blog.
Kindly, share this article on your favorite social media profiles if you like this article.
Adding an Eye-Catching Slideshow in WordPress Blog
Slideshow is a WordPress plugin that provides an easy way to integrate a slideshow for any WordPress  blog. You can load any image in the slideshow by picking it from the WordPress media library. You can even add the already uploaded images into the slideshow. You can create and use as many slideshows as you like, with different images, settings and styles for each one of them.
Features
Create as many slideshows with as many slides as you want
Text slides
Image slides
YouTube Video slides
All Responsive
Place it anywhere on your WordPress blog (Post, page, custom post type, etc)
Run multiple slideshows on the same page
Change animations and handling
Customize to taste
Show that visitor who's boss
How Slideshow WordPress Plugin Works?
Follow the steps below in order to create slideshow:
Install and activate slideshow plugin in your blog
Now, you can see that a Slideshows tab has been created in the left-sidebar in Admin panel
Slideshows > Add New click on Insert Image Slide to insert an image slide, a popup will appear where you can search for the desired image
Insert the image by clicking Insert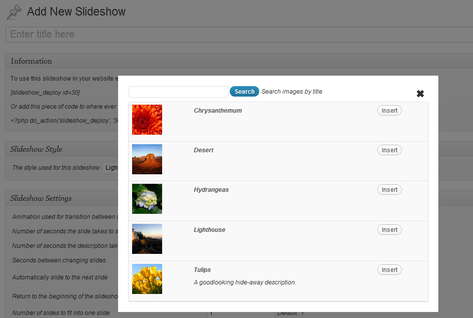 Once you add a new slideshow just go to a post or a page and click the Insert Slideshow button above the editor. A popup appears where you can select your newly created slideshow to insert. You can also use the shortcode or code snippet visible in your slideshow admin panel to deploy your slideshow anywhere on your website. Use the widget to show any of your slideshows in the sidebar of your website.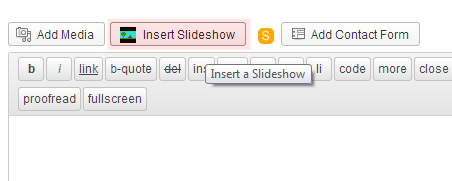 Final Slideshow Result