In this article, I'll show you how to add social sharing buttons in WordPress and basically these social share buttons are inspired by Mashable. Social sharing buttons help your blog visitors to share your blog article on their favourite social media profiles with their friends. And it is one of the best way known to get more exposure on the internet.
So, Mashshare is the best WordPress plugin that I'm talking about. It shows the total share counts of Facebook and Twitter at a glance It puts some beautiful and clean designed share buttons on top and end of your posts to get the best most possible social share feedback from your user. However, this plugin is in active development and will be updated on a regular basis.
Features
Here are a couple of features of Mashshare:
Performance improvement for your website as no external scripts and count data is loaded
Privacy protection for your user – No permanent connection to Facebook, Twitter and Google needed
High-Performance caching functionality. You decide how often counts are updated.
All counts will be collected in your database and loaded first from cache. No further database requests than.
Up to 10.000 free daily requests
Up to 40.000 free additional daily requests with an api key (Get it free at sharedcount.com)
Works with every Theme
Works in pages and posts
Automatic embedding or manual via Shortcode into posts and pages
Simple installation and setup
Uninstaller: Removes all plugin tables and settings in the WP database
Service and support by the author
Periodic updates and improvements. (Feel free to tell me your demand)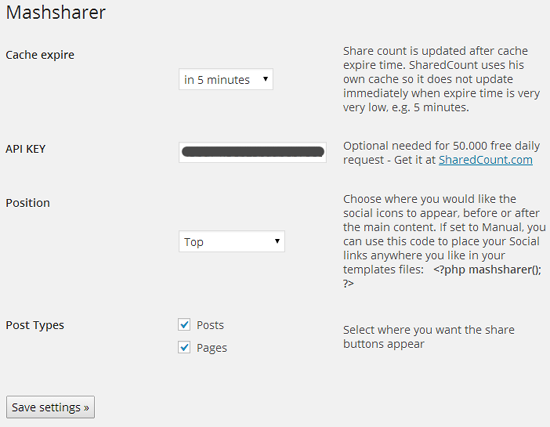 How Mashshare Plugin Works?
Mashshare makes use of the great webservice sharedcount.com and periodically checks for the total count of all your Facebook and Twitter shares and cumulates them. It than shows the total number beside the Share buttons. No need to embed dozens of external slow loading scripts into your website.
However, to add the Mashable like Facebook and Twitter sharing button with total number of share count you need to install and activate Mashshare plugin in your blog and then a settings page will made available to you under Settings → Mashshare from where you can make your changes about where you want the social sharing buttons to appear either at the top of posts or at the end of posts.