You hire someone professional to make your WordPress websites load faster because Google search engine have started downgrading low quality sites from top search results and listing the best sites on top results with a good page speed score. It is one of the most common reason why you must take care of your website page speed. Many people pay to increase their website page speed over at Studio Envato like platforms but if you are not technical minded person and don't want to invest money on page speed then this article is for you.
This article will help people to increase their WordPress sites page speed who don't know or who are not much technical and want to increase their WordPress sites page speed investing nothing. I've also written an article about 10 Steps to Get 95+ Score on Google Page Speed Insights (WordPress Only).
WP Fastest Cache
WP fastest cache is one of the best WordPress caching plugin that helps you to increase your WordPress site page speed. This plugin is the simplest and fastest WP Cache system for WordPress CMS.
WP fastest cache plugin creates static html files from your dynamic WordPress site but in some cases when a page is rendered then php and mysql are used. For this, system needs RAM and CPU.
But if your WordPress site is getting considerable amout of visitors then this plugin can use lots of RAM and CPU. In such cases if your website is on shared hosting then the hosting provider may terminate your account due to CPU resource usage issue (WHY I MOVED). In this case, you need a cache system not to render page again and again. Cache system generates a static html file and saves. Other users reach to static html page.

WP Fastest Cache Features:
Mod_Rewrite which is the fastest method is used in this plugin
The cache files gets automatically deleted whenever you update your site with post/page or any custom post type.
The site administrator can also delete the cache files whenever he want from the plugin options page
You can also block the cache for specific post or page with a shortcode
You can determine the time to automatically delete all cached files (Cache Timeout)
WP fastest cache offers really great features where you can enable/disable cache option for mobile devices and for logged in users.
You can also force SSL on cached files to prevent the http insecure files to be loaded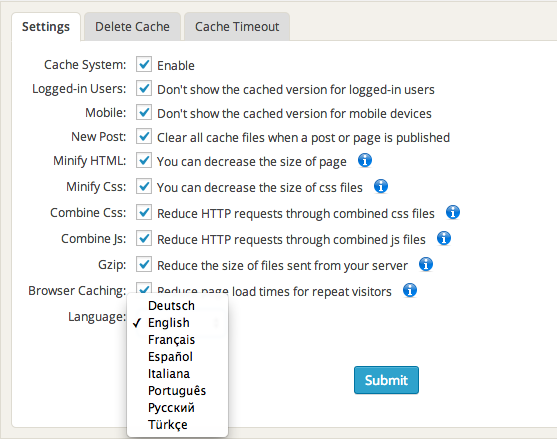 I have already wrote article about setting up W3 Total Cache WordPress plugin that you can use to improve your WordPress based website caching system. There are many articles about WordPress page speed optimization that I've also wrote and published on this site, so online non-technical people can use to improve their sites.