An improved website page speed affects search engine ranking and user-experience and in this article I'm going to rewind back to help WordPress users to speed up their blogs at NO COST. In this article, I'm going to review a WordPress plugin that works like a charm in order to boost WordPress blog page speed on demand.
But you should also read this article that I've written previously about 10 Steps to Get 95+ Score on Google Page Speed Insights (WordPress Only).
Speed Up WordPress With a Plugin
Speed Booster Pack WordPress plugin helps you to improve your blog performance and get a higher score on page speed testing services. This plugin helps you to optimize JavaScript files like putting JavaScript to footer, JavaScript files from Google Libraries, defer parsing JavaScript, remove query string resources and more.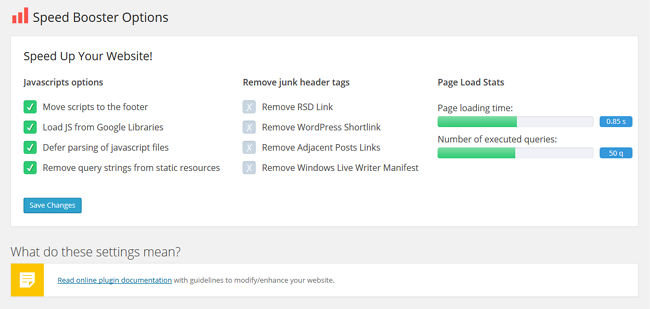 Here are a couple of best features that Speed Booster Pack WordPress plugin gives:
Features
Moves JavaScript scripts to footer to improve page loading speed
Loads JavaScript files from Google Libraries rather than serving them from your WordPress install directly, to reduce latency, increase parallelism and improve caching
Defers parsing of JavaScript files to reduce the initial load time of your page
Removes query strings from static resources to improve your speed scores
Removes junk header tags to clean up your WordPress Header
Page Load Stats is a brief statistic displayed in the plugin options page
It displays your homepage loading speed (in seconds) and number of processed queries
How it Works?
On installation of Speed Booster Pack WordPress plugin, a new sub menu Speed Booster Pack will be created under the main Settings menu, to setup the plugin.