Today, I'm going to show you guys how to increase the media upload max filesize in WordPress and by default WordPress media uploader let's you upload maximum file size of 1MB (Mega Byte). In WordPress there is no built-in option to increase media upload max filesize, however the WordPress uploader includes multiple file selection and drag and drop capability. And by the way, you can also switch to the multi-file uploader in WordPress.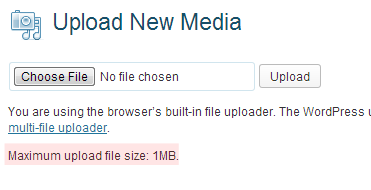 How to Increase Media Upload Max Filesize in WordPress
Increase Upload Max Filesize is a simple WordPress plugin which enables WordPress users to increase the media upload max filesize. So, here is the step by step guide to increase the max filesize in WordPress.
Follow the steps below:
All you need to do is to install and activate this plugin in your blog
Once you activate the plugin, the max filesize will automatically be changed to the following limits:
The Increase Upload Max Filesize plugin has completed its job.
Your memory_limit is already 256M so it will not be changed.
Your upload_max_filesize was 2M and will be set to 32M.
Your post_max_size was 8M and will be set to 33M.

Please allow some time for your server to recognize any changes.

You may deactivate the plugin, now, since its job is complete.