Managing a WordPress blog is really simple but when we talk about managing documents and downloads, here is the only one thing that can do it seamlessly which is proudly WordPress. WordPress has come as a very long way in the last 10 years starts from an open source blogging platform — to fully fledged CMS (content management system). So, in this article I will show you and take you through the process of how to manage documents and downloads in WordPress so easily.
Best Plugins to Manage Documents and Downloads
WordPress Download Manager
WordPress Download Manager is a files and document management plugin for WordPress blog owner/managers. This WordPress download manager plugin takes care of your every single file and helps you to manage, track and control file downloads from your WordPress blog. Eventually, now you can define password and set access level any of your downloadable files from your WordPress blog. You can add/embed downloadable files anywhere in the post just pasting the embedded code inside your post content using WordPress Download Manager.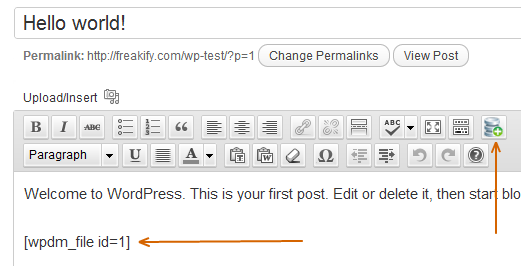 Download Code Redeemer
Download Code Redeemer WordPress plugin is to limit downloads and helps the user enter a code to get it (either one time, or unlimited times). Download Code Redeemer is a simple plugin that does just that.
WP Front-End Repository Manager
WP Front-End Repository Manager plugin allows your WordPress blog readers/visitors (or clients) to upload files, create directories up to unlimited level. This plugin is great tool for those who want to allow site members to upload and manage their documents/files in directories. The interface is very easy to use and light to load.
How to use
Create a page and paste this shortcode: [nm-wp-repo]
Features
Uploader with Progress bar
Most secure uploader plugin
Ajax based validation
File Detail
Download Files
Delete File
Customized dialog messages
Restrict file types
Resctrict file size
Email Before Download
Email Before Download WordPress plugin presents effective functionality to your blog users with a form where they can submit information, like their name and email address, prior to receiving a download link or a fully download setup. This plugin integrates with the popular Contact Form 7 and WordPress Download Monitor plugins, allowing you to create any form you like and manage/monitor your file downloads. Even, you can also EXPORT a list of users that have downloaded files from the plug-in's settings page.
Download Monitor
Download Monitor WordPress plugin provides an interface for uploading and managing downloadable files (including support for multiple versions), inserting download links into posts, and logging downloads.
Features
Add, edit and remove downloads from a familiar WP interface; just like posts.
Quick-add panel for adding files whilst editing posts.
Add multiple file versions to your downloads.
Define alternative links (mirrors) per version.
Categorise, tag, or add other meta to your downloads.
Display download links on the front-end using shortcodes.
Change the way download links get displayed via template files.
Track downloads counts and log user download attempts.
Member only downloads.
Customisable endpoints for showing pretty download links.