(Last Updated On: May 11, 2017)
I hear a lot about USB driver issues with Android smartphones like Motorola, Samsung yet today I came across Xiaomi Mi4 which has same USB driver issue and unable to connect with PC/laptop. It is important to have Xiaomi USB drivers installed in PC if someone is trying to connect it via USB cord in PC.
One of our blog reader comment on our site that please update me the Xiaomi USB drivers on your site so people can download and fix the USB driver issue of Xiaomi smartphones.
In this article, you will get 100% working USB drivers for Xiaomi smartphones if you have got one.
Previously, we also published an article regarding Xiaomi PC suite which is also good solution if you are trying build connection between your computer and your Xiaomi Android smartphone.
Xiaomi USB Drivers [Download]
So, before I begin to share the setup of Xiaomi USB drivers, let me tell you about the issue which our user was facing with his Xiaomi Mi4. He received no USB driver error I have put a screenshot  regarding this below saying,
"Xiaomi mi4 not recognize the USB driver ….."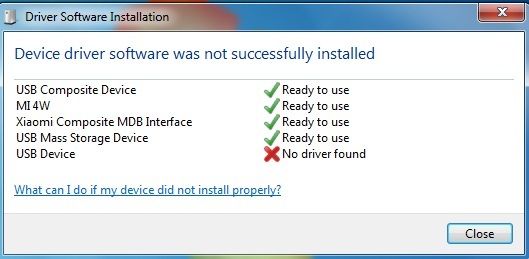 In order to fix the about error for Xiaomi USB port, either install the following USB drivers in your PC or simply install PC Suite of Xiaomi which tends to install the USB drivers in your PC automatically. No matter which Xiaomi device you are trying to connect with PC.
Download Xiaomi Drivers from G Drive
Download Xiaomi Drivers from One Drive