(Last Updated On: November 18, 2018)
If you have signed up for Payoneer then you might know that it is the best prepaid card so far. But it is a bit hard to deposit Payoneer card initially. At the very first place, we can't deposit money from our local banks to Payoneer and we will have to find an alternative way to deposit our accounts. Payoneer offers a payment request form through which you can ask other cardholders to fund your card and you can pay them locally (Like I do this for Pakistani account holders 😀 ).
However, today I'm going to cover a very interesting point that I missed in my previous article, how to fund Payoneer with Skrill MoneyBookers. While going through that previous article many people commented about which postal address they have to verify on SKRILL? Since Payoneer account holders are trying to add Bank of America account to Skrill and an error message come up saying:
Please complete postal address verification before adding a United States of America Bank Account
And after seeing this, people are a bit confused while they don't have to. Because you are adding US bank account but Skrill don't allow you to do that unless you verify your residential postal address that you added when signing up with Skrill. That's it.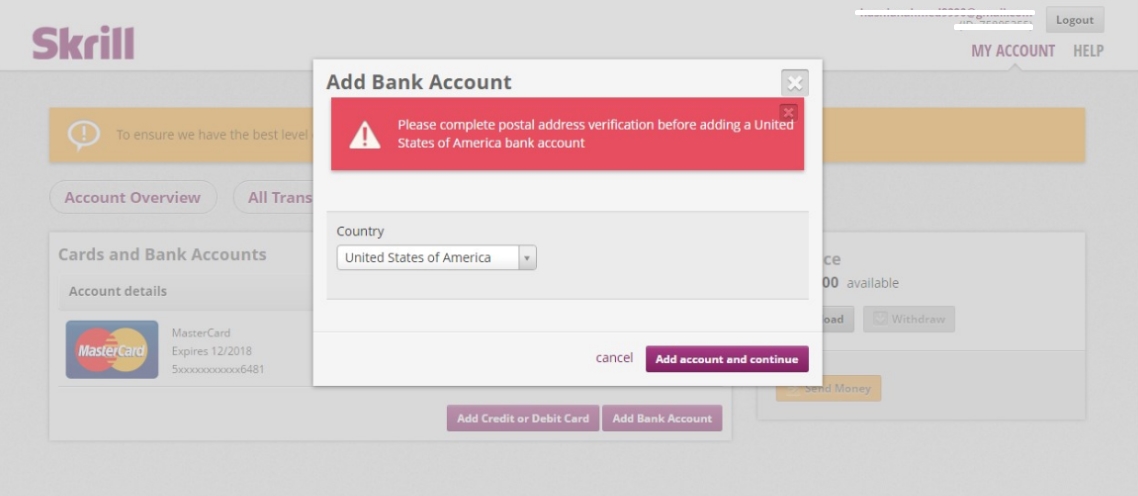 Tips to Verify Postal Address in Skrill
If you don't want to see the error, just verify you postal address by providing the required documents.
Just provide them the following and you are done:
If you don't have Skrill account create one by using this, get one.
Bank Statement or any utility bill (that verifies your name and address on it that you have used on Skrill account)
CNIC front and back
Confused? Where to submit documents? Fill out the form and upload the documents here.