(Last Updated On: April 7, 2016)
WordPress Woocommerce is really amazing if you want to build an online shopping site. However, you can use Magento, Shopify CMS for creating online shopping sites. Anyway, I would prefer WordPress to build any kind of website because it provides plenty of options to choose and customize from. You can build 12 different kind of sites as of today with WordPress.
Today, I'm going to teach you how to enable discount on social shares in WordPress WooCommerce site. In short, you can allow your visitors to get instant discount coupons for sharing your products/posts on next purchase.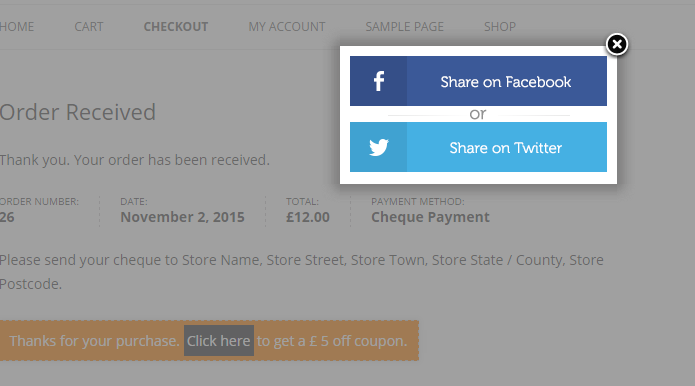 Enable Discount on Social shares in WordPress Woocommerce
WooCommerce Social Share Discount Coupon plugin allows you to easily add a social coupon system to your e-commerce store that allows users to get instant discounts coupon for sharing your post on next purchase.
Have a look at the demo video below to see how you can offer your visitors on your WooCommerce WordPress store the discounts on next purchase 😀
Features:
Share description on order received page using facebook and twitter
Get Instant discount coupon after share description on next purchase
Valid for one time use coupon
Simple setup in the options panel
Fully tested with latest version of WooCommerce
To get more features, you can also buy this plugin from codecanyon.