Email marketing helps you turn your visitors into customers. It really helps in growing your business in less time. If you want to send emails to maximum number of people in minimum time, and you are worried about it, then you have to worry about this anymore… An email marketing tool will be helping you to send your emails to more than thousands of subscribers in a fraction of seconds. Yes! To thousands of subscribers. Isn't that amazing? So what are you waiting for? If you are a newbie in online business world and want to make your business successful in less time, go for a suitable email marketing tool that suits your needs and come up within your budget.
Here is the question that arises most of the time, which email marketing tool to choose? Hundreds of email marketing services are available out there. They might make you confuse, about which service is best and which sucks. Right now, GetResponse, MailChimp and Vertical Response are considered as good email marketing tools. All three of them have their own unique features and working. In the article below I am going to do a detailed comparison report. Go ahead and read the article and decide who the winner is.
What are the features every good Email Marketing Tool should have?
The above question is usually asked by newbies when they enter into the world of online business. Following are the list of important features that every email marketing tool should have in common.
Archives:
An email marketing tool should have an archive folder. Many email marketing services like constant contact etc are providing this option that will archive the old newsletters of any organization. Your newsletter is mostly consisting up of important information. You can always search archive newsletters if required. In addition to that archive folder will help you to keep all of the record on the website. That will be useful for you in future.
Anti-Spam Policies:
In my opinion an email marketing brand should have anti spam policies. An anti spam policy will help you to blacklist the users whom you want. Most of the email marketing tools including iContact, Vertical Response and Constant Contact and some other typical email marketing tools have anti spam policies. These anti spam measures include mostly the information about postal address, option to unsubscribe and information prohibiting the use of misleading headers or subject lines.
A Good welcome to Newcomers:
All the popular email marketing services including GetResponse, MailChimp, Constant Contact,Vertical Response, Aweber and etc have a good and suitable pricing plan to welcome their customers. All of them offer affordable monthly and yearly pricing plan for their customers. In addition to that, all of them are easy to use and offers different social media interacting features, that enable newcomers to interact with one another, to gain experience and to share their opinion about their campaigns. And these interactions are useful in making best decisions regarding online business campaigns.
GetResponse Vs Vertical Response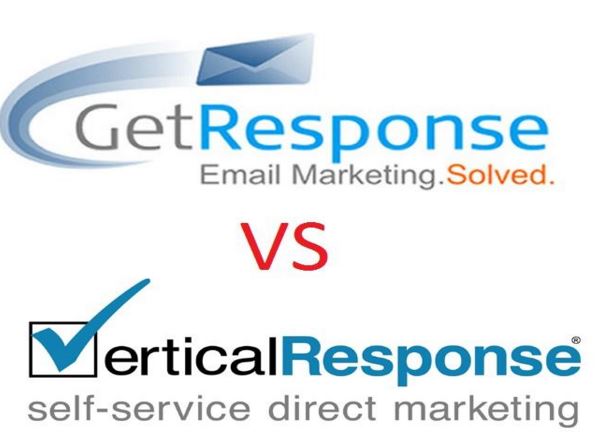 Both email marketing tools, GetResponse and Vertical Response are quite popular. The below detail comparison of their features and working will help you to know that GetResponse is better than Vertical response in so many ways.
Free Trials:
GetResponse is giving its users free trial of 30 days without demanding their credit card detail in advance. In addition to that GetResponse enables its users to send 500 emails to 250 subscribers in the month. Comparing Vertical Response, it offers free trial of 30 days but limits the number of emails to 100 and you can only add 100 subscribers in the list. Vertical Response offers a free trial that isn't enough to show you the actual picture of what Vertical Response is offering.
Pricing War:
Pricing is no doubt an important factor that makes any email marketing tool more attractive towards its users. The pricing plan of GetResponse differs from Vertical Response because GetResponse offers the pricing plans on the basis of number of subscribers. Whereas Vertical Response offers pricing plans depending on both number of subscribers and number of emails being sent. That is why pricing plan of Vertical Response are limited whereas GetResponse is winner ing the pricing war.
GetResponse pricing plan starts with $15 offering unlimited number of emails to 1000 subscribers.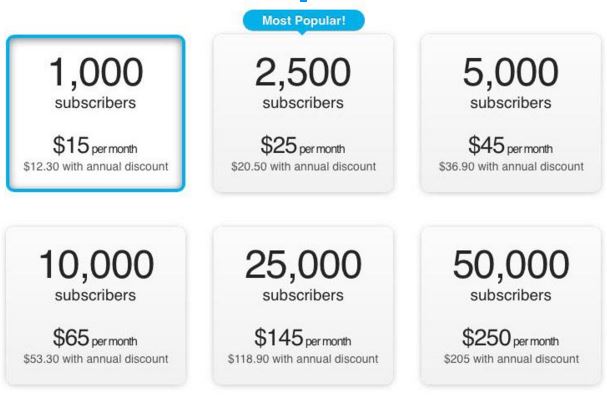 If you are going to subscribe to their yearly package and your subscribers are more than 10,000 in count then GetResponse will be offering you 18% discount as well. In comparison to that Vertical Response's starting plan is $5 cheaper than GetResponse but offers emails to 500 contacts only. The image shows full pricing plan of Vertical Response.

List Building:
Both email marketing tools use different methods that would help you to increase your contact list, including opt-in forms, signup forms for social websites, easy list import option and etc. But GetResponse is step ahead as compared to Vertical Response. GetResponse offers you sign up forms for social media websites like Facebook and enables you to use thousands of integration to import contacts directly from it. The most amazing thing that I would love to tell you is that, GetResponse is member of 6 organizations that are securing customer safety. In comparison to that Vertical Response is member of only three organizations that works for customer safety. If you want to grow your business in less time, I would be suggesting you to go for GetResponse.
Email Deliverability rate:
Email deliverability rate is the factor, on which the success of your online campaign depends. Unluckily Vertical Response does not show any data regarding deliverability rate. In comparison to that GetResponse is the only email marketing tool with outstanding deliverability rate of 99%. It means most of your emails are successfully sent to your subscribers.
GetResponse Vs MailChimp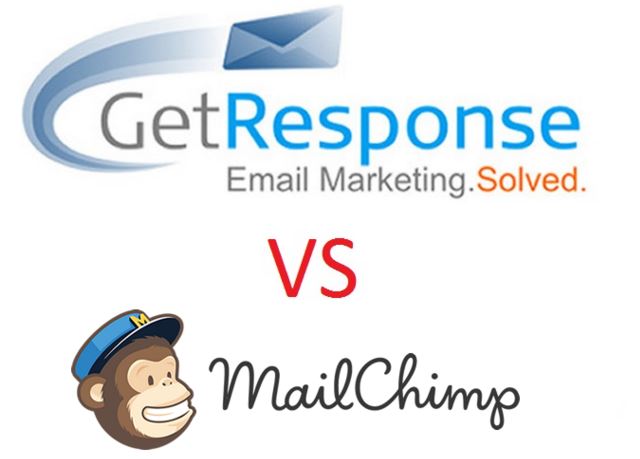 GetResponse and MailChimp are among the list of best email marketing tools. Let's have glimpse on the features of GetResponse that makes GR a better email marketing tool as compared to MailChimp.
Free Trials:
As I have already mentioned above that GetResponse offers its users free trial of 30 days. This free trail enables you to use all the features of GetResponse for absolutely free. Without having to give your credit card details. In comparison to that MailChimp's free trial offers 2000 emails to 12K subscribers only. But one of the drawbacks of MailChimp free trial is that most of the features are present for paid-only users. So if you want to expand your online campaign in less time. I would suggest you to go for GetResponse. Because if you are not satisfied with it you can always back off without spending a penny.
Pricing War:
GetResponse's pricing plans are more convenient for business organizations who want to expand their businesses. GetResponse's pricing plans start with $15 offering emails to 1000 subscribers. Here I need to mention that you can send unlimited number of emails to your subscribers for $15 only. Talking about MailChimp, it will be offering you the lowest pricing plan for $10, but for only 500 subscribers. Below is the image that is telling about the pricing plan of MailChimp.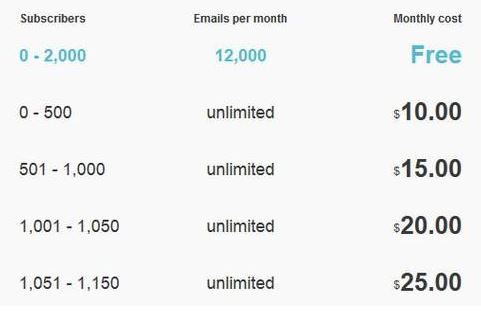 In addition to that, GetResponse keeps on offering different discount plans along with nonprofit plans. So GetResponse is clearly a winner when we are going to compare it on the basis of pricing.
Newsletter Design:
Both email marketing tools offer you a variety of newsletter designs. GetResponse newsletter designs are outstanding and unique. It enables you to upload videos, to choose images from thousands of stock images and also have memory of 1GB in which your own media files can be stored. In comparison to that, MailChimp is less convenient. It offers only 1Mb memory for image storage. Of course it's not enough.  Also MailChimp lacks the feature of email to speech that of course limits the online campaign.
Customer Support:
GetResponse and MailChimp both email marketing tools offer customer support for its users. Both offers customer support via emails, live chats, phone calls and etc. The GetResponse's customer support team is active 5 days a week i.e. Monday to Friday from 9Am-5PM. In addition to that, if you want to know more about their services you can visit their websites and blogs too. GetResponse will be guiding its customers on each and every step.
MailChimp'sservices are also present on its websites and you can always visit their blogs for further information. But the main difference comes when we talk about languages. GetResponse supports different European as well as 10 user panel languages. This feature of GetResponse makes it more convenient for its users.
Which One Is Better?

GetResponse, MailChimp and Vertical Response, all of the three have different features. But in my opinion GetResponse is more convenient for its users. As it is simple and easy in use with 99% deliverability rate. It offers mobile support and enables you to view all your templates on mobile. And features like free trial, suitable pricing, and customer support, landing page creation, 500+ templates, iStock images and much more make it much much better than others..