Email newsletter is one of the best way to build a successful small business online. And if you have a blog you must should setup an email newsletter for it. Let me tell you that how email newsletter can help you grow your online business. Let's say, if you have a blog with a subscription form where people can signup for email newsletter. So, members will have the option upon member registration to join our Daily, Weekly, even Monthly Email Newsletter. Once a member joined the daily, weekly or monthly newsletter he/she will start receive emails regarding what's new happening on the site.  Today, we have shared the best collection of 30 exclusive email newsletter WordPress plugins to download that will help you start building a successful mailing list.
So, if you are reading this article and I hope you will also like it. Please consider sharing this informative article over your favorite social bookmarking sites. Thanks
Email Newsletter WordPress Plugins to Download
Features
Track Opens, Clicks, Unsubscriptions and Bounces
Track Countries and Cities
Schedule your Campaigns
Auto responders
Use dynamic and custom Tags (placeholders)
Webversion for each Newsletter
embed Newsletter with Shortcodes
Forward via email
Share with Social Media services
Unlimited subscription forms
Sidebar Widgets
Single or Double-Opt-in support
WYSIWYG Editor with code view
Unlimited Color Variations
Background Image support
Quick Preview
Email test with IsNotSpam.com support
Revisions support (native)
Multi language Support (English and German included)
SMTP support
Gmail support
DomainKeys Identified Mail Support
Import and Export for Subscribers
Retina support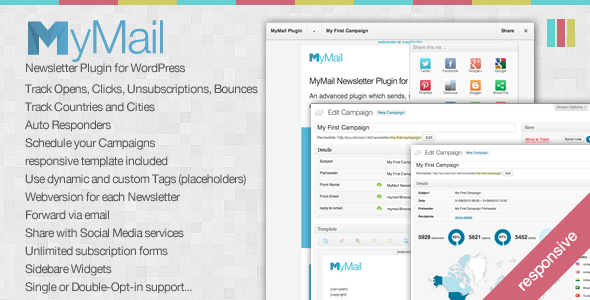 Email newsletter plugin is an advanced bulk emailer designed especially for WordPress. It is very easy to use and feature rich. Heaps of features which allow you to quickly send professional newsletters to your existing WordPress user database. Using this plugin, you will not only be using the most amazing features from these email newsletter WordPress plugins but you can send emails to your existing WordPress members. You will also be able to place a limit on the number of emails it will send per day, per hour and/or per month. WordPress Email Newsletter plugin lets you add sidebar widgets so people can subscribe to your newsletters and view previous newsletters.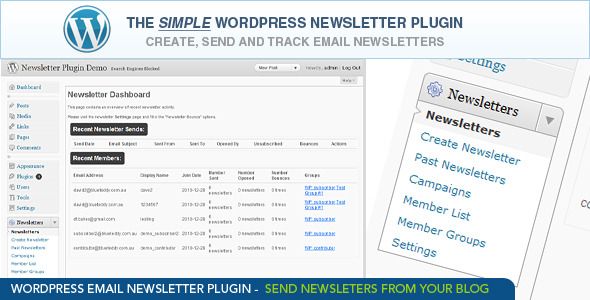 Simple Mail Chimp Signup forms WordPress plugin is one of the most popular email newsletter services for WordPress blog users. This is a little plugin that adds several ways for you to add email list signup forms to your WordPress blog/website.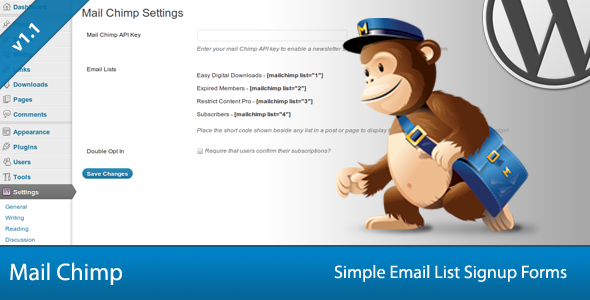 Subscribe Popup is a simple WordPress plugin which enables WordPress blog users to add a highly customizable popup window with opt-in form to your WP blog or website. Once raised popup window asks visitors to submit their name and e-mail. These data are saved in database or sent to MailChimp, iContact, GetResponse and Campaign Monitor newsletter systems.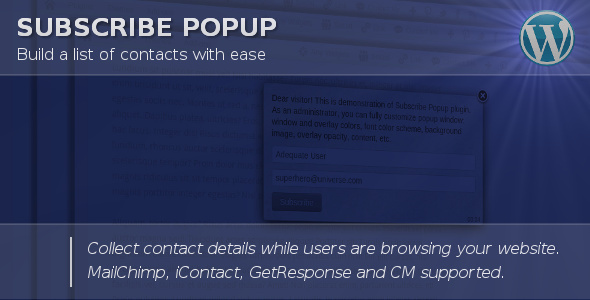 Ad Plus List Building Popup is so clean, super-flexible and has a fully responsive popup designs. This WordPress plugin have proven to convert your daily blog visitors into highly responsive targeted email list subscribers OR buying customers within just 2-3 minutes.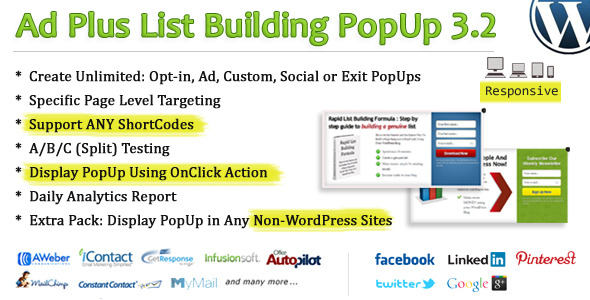 Newsletter Mailer WordPress Widget plugin is the sixth largest and feature-rich email newsletter WordPress plugins that gives you many great features. And I hope if you use it you feel good and you will see gradual increase in your blog subscriptions.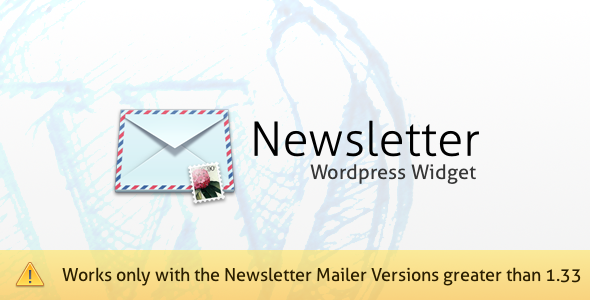 Subscribe & download WordPress plugin allows you to distribute files through subscriptions. After submission they receive encrypted temporary download link by e-mail. All submitted data is saved in database or can be sent to MailChimp, GetResponse, iContact, Campaign Monitor auto-responders. All saved data can be exported as CSV-file to be used with any other newsletter systems.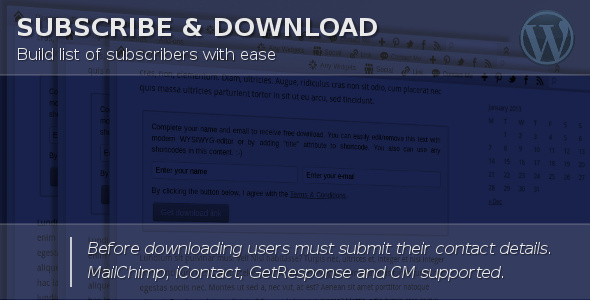 All-in-One Subscribe Popup is a plugin for WordPress that allows you to add a highly customizable subscribe popup box to your blog or website.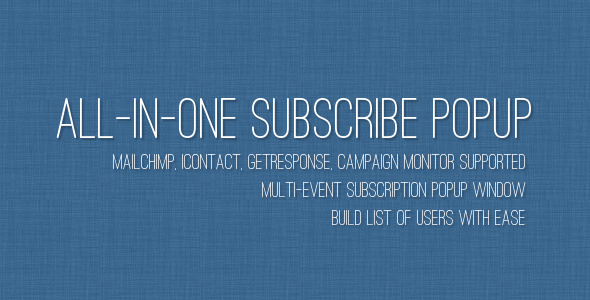 Subscribe To Unlock Content is a plugin that allows to lock important content on your WordPress website and display it for subscribed users only. All you need to do is to wrap protected content with shortcodes [subscribelocker]...[/subscribelocker].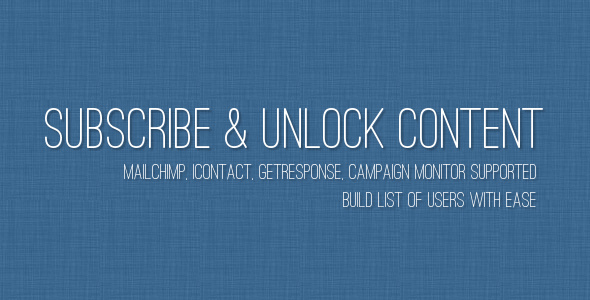 Newsletter Tycoon WordPress plugin allows users to subscribe and receive newsletters containing the latest blog posts. The newsletter subscription system features a double opt-in system, with email confirmation. Administrators can also activate subscribers.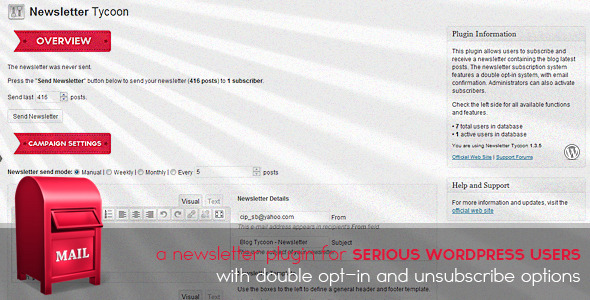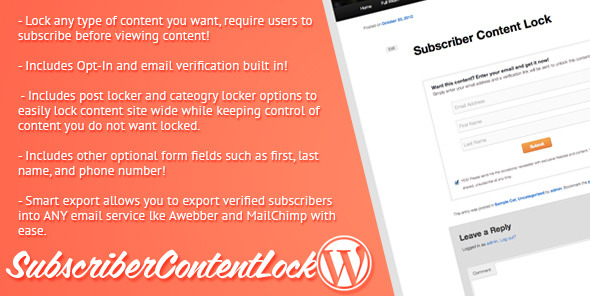 Subscribe to Unlock for WordPress makes it very simple to create a subscription based content system on your site that requires users to subscribe to an email list, newsletter etc. before viewing content.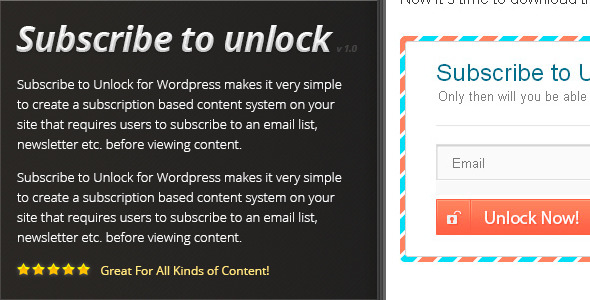 Mail Chimp Traffic Pop for WordPress allows you to harness your sites traffic to generate thousands of new subscriptions with ease.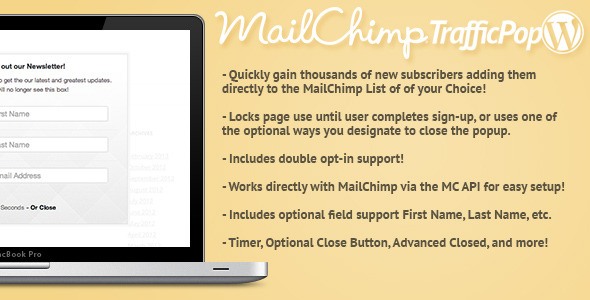 Campaign Monitor is one of the most popular email newsletter services. This is a little plugin that adds several ways for you to add email list signup forms to your WordPress website.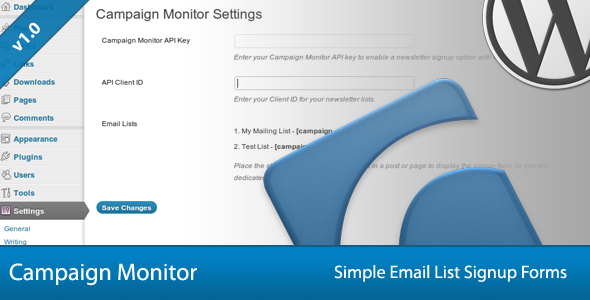 MailChimp Comments is a plugin for WordPress that allows you to subscribe commentators of your posts/pages via MailChimp. When a users comment something on your website, they are immediately added to your email subscription list.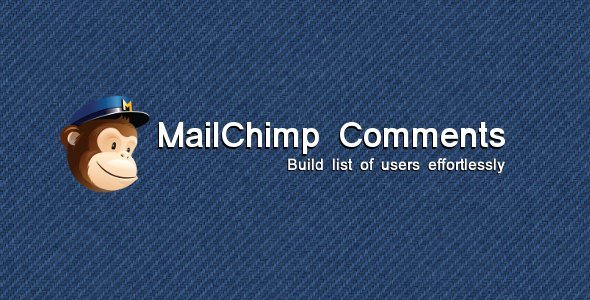 Easy Newsletter subscription form builder that allow subscribe to download type lead generation that also manages subscribers list. Which can be downloaded as CSV.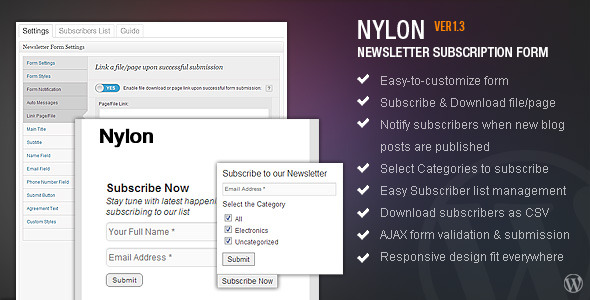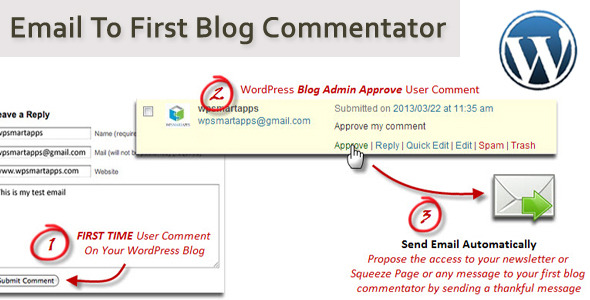 WordPress Newsletter System Plugin has been well integrated into the WordPress platform itself and uses the flexibility, power and simplicity of WordPress to ensure that you have a pleasurable experience as you create your templates, manage subscribers and send out newsletters to a large amount of users.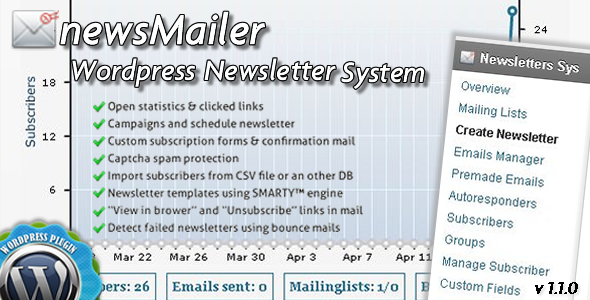 Subscribe Check Box is a powerful, inline add-on for 'Ad Plus List Building PopUp'.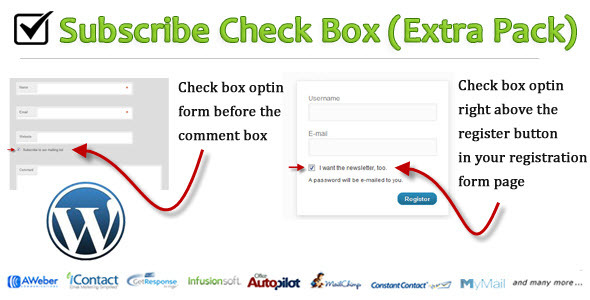 Groups Newsletters helps you to communicate efficiently, providing targeted information to groups of recipients through automated campaigns.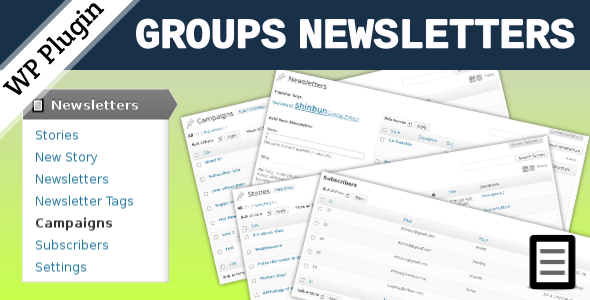 AB Simple Subscribe is a simple Ajax driven WordPress plugin that generates subscribe to mailling list form.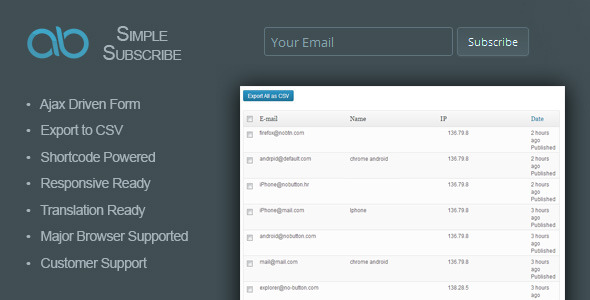 Easy WordPress Mailchimp Integration Pro is a WordPress plugin that adds to the WordPress default registration form a multi-select list of your Mailchimp lists.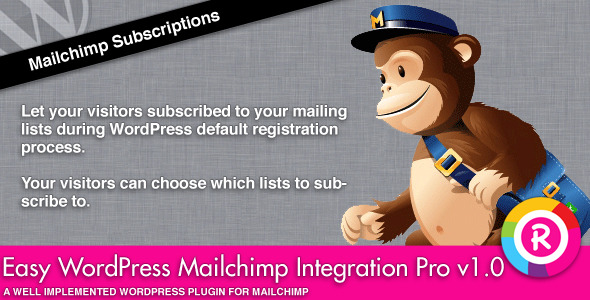 Select MailChimp list and a group and automatically new groups and users are added to this mailchimp group.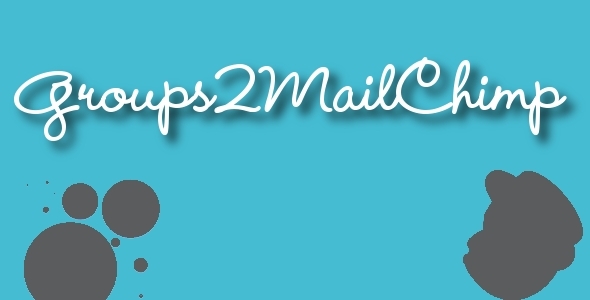 A professional newsletter system for you who don't like to mess around with lots of confusing settings and have no time to learn new stuff! just install and send emails to your users.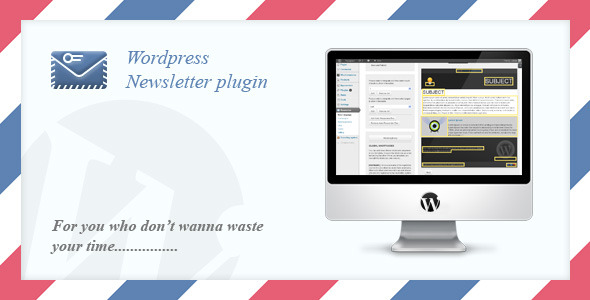 GoodNews allows you to get leads, convert them into paying customers, and do more business with them than ever, by communicating with them regularly through newsletter broadcasts and fully-automated auto-responder campaigns.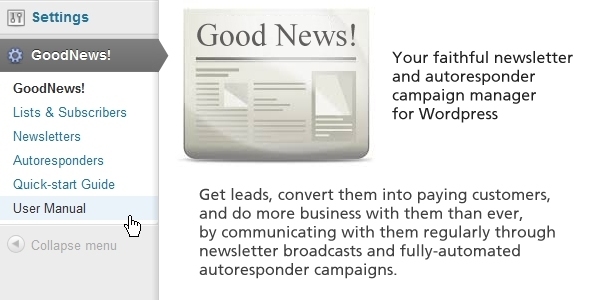 This item represents a simple newsletter system, offered as a WordPress plugin. You can define as many newsletters as you want, and it is the same for subscribers.
List Booster is a must have plugin for bloggers and affiliate marketers that boosts your list subscription rate up to 300%. It forces your site visitors to subscribe to your list to read your full content.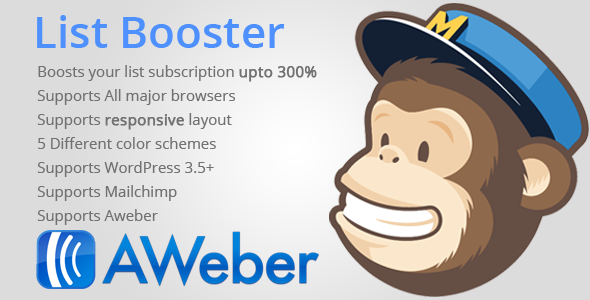 Gravity Forms Simple Drip Autoresponders Addon for WordPress is the easiest way to create a simple autoresponder campaign – a.k.a. email drip campaigns – using a plugin you probably already have!