This post reviews two of the top landing page builders – GetResponse & InstaPage. After reading the complete post, you will get to know about their features, pricing and how GetResponse is better for you and your business. Before comparing their features, let's have a quick read about landing pages. What Are Landing Pages? A landing page is a web page that is built specially for bringing leads to your own or someone else's product. These type of web pages are distinct from your main website and there's no option to navigate to your complete website so that the users can be more focused on your main product and bring higher conversion rate. There are many landing page builders available in the market that people often get confused which to choose. This post is going to solve this problem. In this article we are going to discuss two of the best landing page builders – GetResponse & InstaPage. So let's start…
GetResponse


GetResponse is used by almost all successful companies around the globe. The marketing tool has had a competitive edge since the beginning and has made remarkable efforts on making the survival of businesses much easier. With its state of the art features within reasonable price, it has managed to form alliance with several organizations. It has effectively helped companies to develop a long list of prospects, partners and clients and create a robust customer relationship. Getresponse has been able to satisfy more than 3.5 million users, and the number is still growing.
What are the features?
Autoresponders: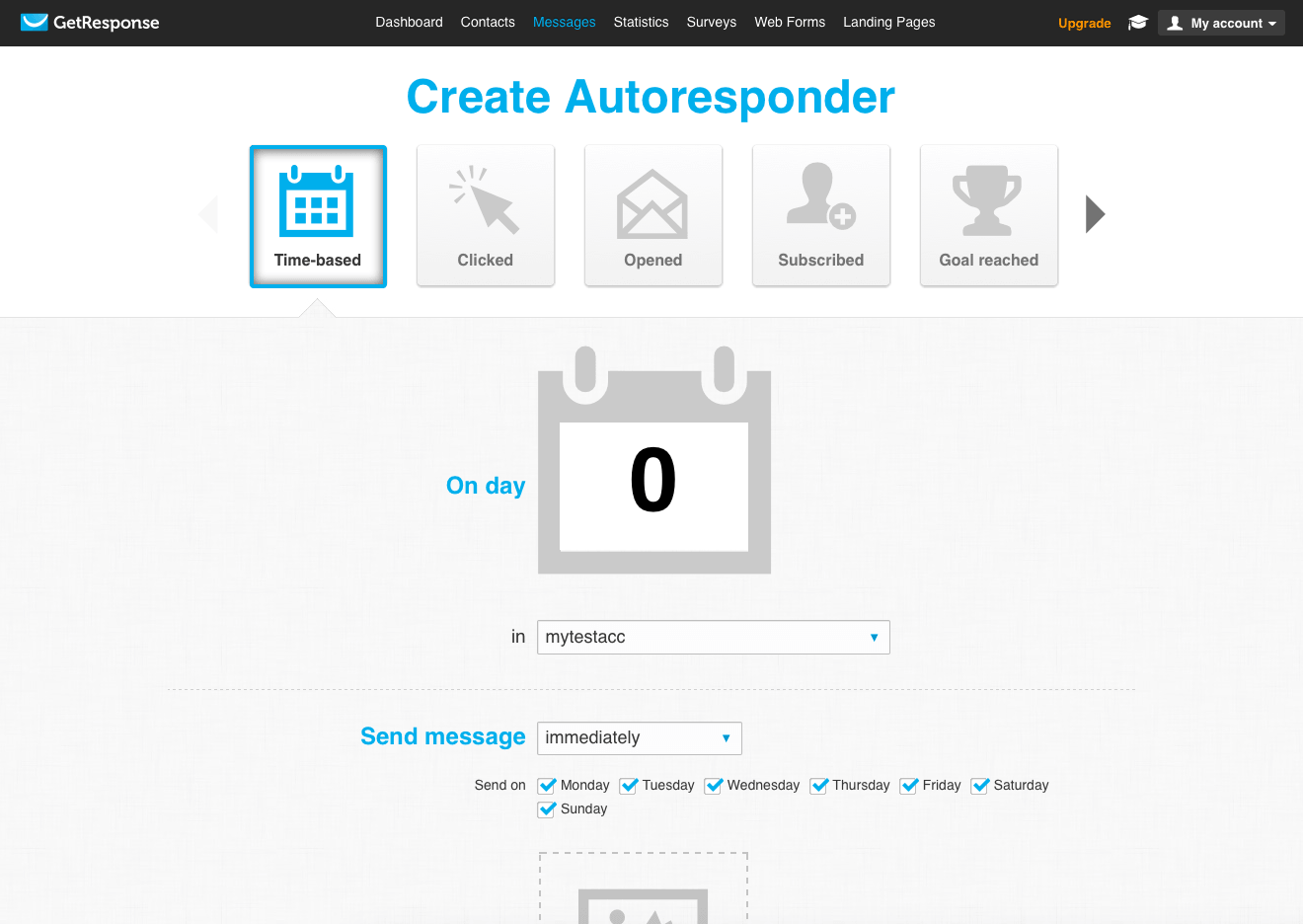 This is a key feature of Getresponse which lets users make flexible schedules for sending their newsletters with the click of a button. Most sales representatives are too busy to manually send their emails to their potential customers, however with the help of autoresponders, they can simply select the date and time at which the mails will be sent automatically.
Templates:
Getresponse lets you create, edit and resize your emails in the simplest way possible. It provides smart image editing, snipping archive and email creation history where you can easily undo any editing with no worries.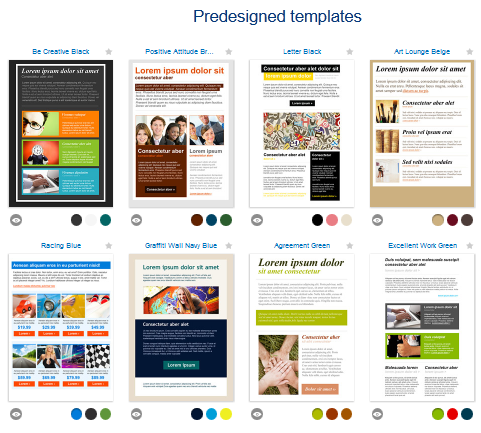 Webinars:
Users have the opportunity to register for webinars. They can either schedule for their own webinars or could participate in others. This expands the technical knowledge among marketers and through communication; they can exchange their own experiences and words of wisdom when it comes to maintaining a profitable customer base.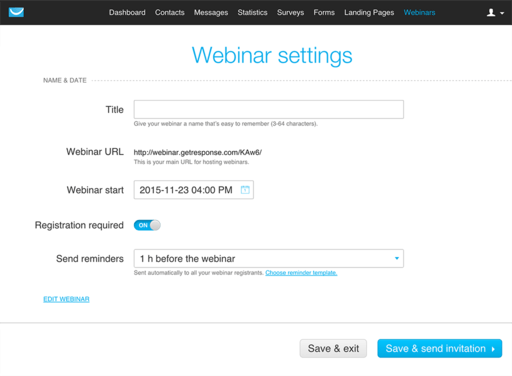 How much does this all cost?
Getresponse consists of 4 subscription packages:
Email (for $25 per month): provides autoresponders and basic landing pages.
Pro (for $49 per month): offers the additional feature of 100 webinars
Max (for $165 per month): users get a custom domain, account manager as well as 500 webinars
Enterprise (for $799 per month): 2 dedicated IP addresses, maximum mail out performance and deliverability consulting.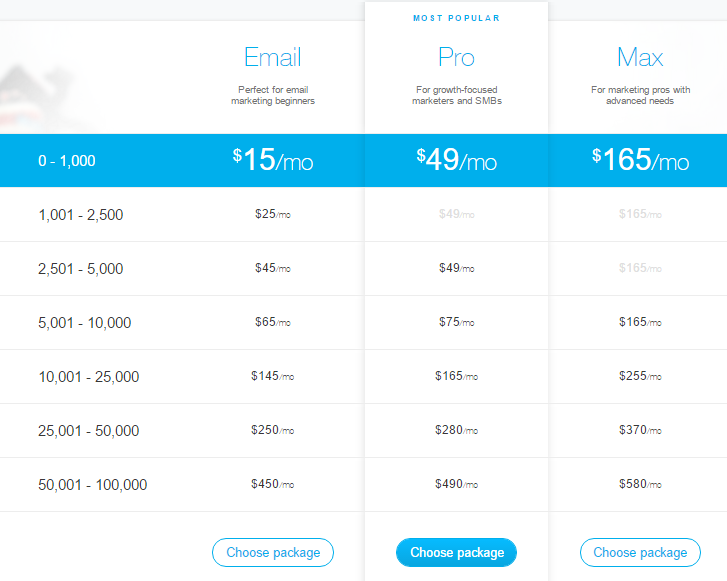 Instapage
Instapage is also a well-known marketing tool with astounding features to help companies achieve their target goal. Newsletters can be sent to target audiences within seconds to their computers, laptops, cell phones and tablets. More than 250,000 companies are relying on instapage. By simply filling out the three basic empty spaces (Name, Email and Password) we are ready to be a part of a fast growing landing page platform, and making the job of promotion easier for ourselves.
What are the features?
Instapage has launched several features for members to customize their mails.
The landing page feature would obviously be one of them. However, it also provides pages besides this.
One of them is a squeeze page. The goal of a squeeze page is to lure a client with things such as free eBooks, or podcasts to an extent that the client provides the company his or her email address.
Another one is a called a splash page. This provides your visitors the sort of curiosity they get when they see a trailer of a movie. It is sort of advertisement to your main landing page and gives very little information about it to the viewer.
Templates:
Instapage consists of more than a hundred templates to help users get more creative when it comes to designing mails and newsletters. People are more likely to focus on eye-catching emails and product related newsletters rather than the plain-looking ones. Therefore, instapage has eradicated this obstacle by facilitating companies with many options to enhance their creative skills and making their land pages more unique.

Lead Generation:
This marketing tool helps the company to collect as much data as possible about its clients and further identify their personality and provide individual offers to them according to their taste.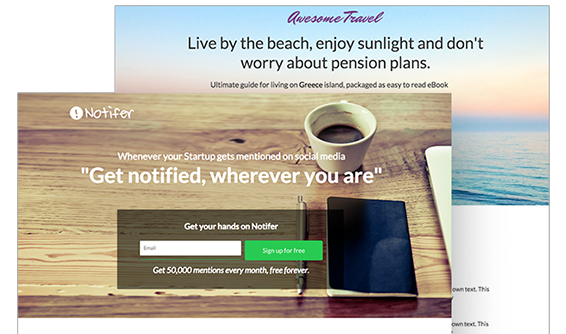 How much does this all cost?
Instapage has introduced three packages for registration:
Basic: (for $29/m) users can get unlimited pages, visitors, domains, and 2 live A/B split tests
Professional: (for $55/m) users can get the same facilities as mentioned above with additional features of template importing and unlimited A/B split tests
Premium: (for $79/m) users can get the above mentioned offers as well as phone, chat and email support. They are also provided with custom code editing and webbooks integration.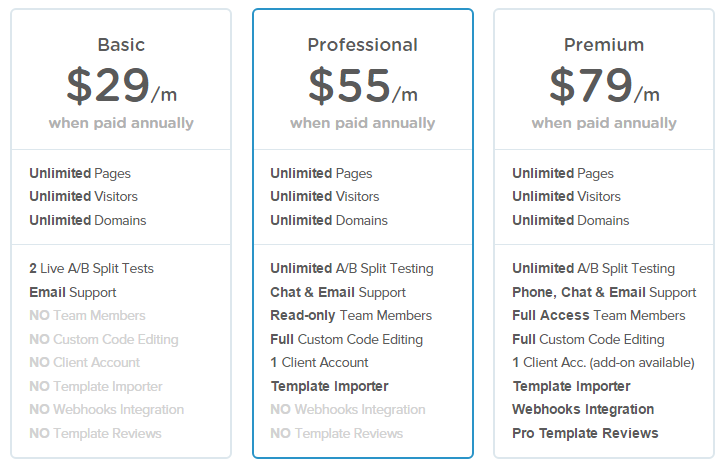 GETRESPONSE OR INSTAPAGE: HOW ARE THEY SIMILAR AND DIVERESED?
When comparing both marketing tools, they are somewhat similar. Both offer a 30 day free trial to help users in making their final decision to make a real subscription.
Furthermore, GetResponse as well as Instapage provide steps and guides to create landing pages, though Instapage provides a more detailed information on the matter, such as the meaning of landing pages and steps to improve them. Both also give the option of A/B testing, so that the users can compare their newsletters with different decorative elements.
However, GetResponse has a more established reputation as compared to Instapage as it is the easiest marketing tool around the globe with countless organizations joining it. GetResponse offers features slightly different from the rest of the marketing tools and provides additional attributes, such as autoresponders. Furthermore, GetResponse provides a wider range of pricing options, the cheapest one being cheaper than Instapage's basic package.
Also, Instapage only offers landing pages and on the other hand GetResponse offers Email tool along with landing pages. So you get the complete email marketing stuffs from GetResponse.