Xiaomi Macbook Air is one of the best affordable laptop which is released by Xiaomi company recently. After it is first release the rival started among Xiaomi Macbook Air and Apple MacBook. People started to compare the recently launched Xiaomi Macbook Air with Apple MacBook in a lot of different ways and that's true that Apple have been in the market for long but it is real costly and normal/average people can't afford to buy Apple MacBook so they look for alternative laptops.
However, if you are landed on this page searching about Apple MacBook alternatives or Xiaomi Macbook Air then you are on the right page because Xiaomi Macbook Air laptop is solid alternative of Macbook of Apple.
In this article, I'm going to write a review about Xiaomi Macbook Air and why should you buy it rather than buying Apple MacBook. Moreover, you can also find the specifications  and price for Xiaomi Macbook Air.
Xiaomi Macbook Air Review
So, the best Chinese smartphone and smart tech manufacturer company just released their first laptop and it look a lot much familiar with Apple MacBook.
By the way, the laptop Xiaomi Macbook Air just came out in two different screen sizes i.e., 13.3 inch and 12.5 inch and it came as surprise after launching the new Redmi Pro smartphone by Xiaomi.
Mi Macbook Air comes in full-HD display with Windows running and full-metal body. You have a type-C USB charging provided along with two other USB slots and there's a full-sized keyboard with Apple-esque keys.
In the laptop, you have a Xiaomi Sync software installed which you can use to pair data from a Xiaomi smartphone or smart tech devices with your laptop. I know, how synchronization is important especially today.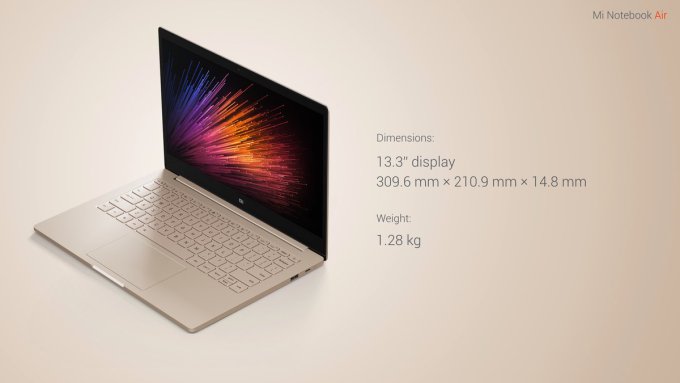 Xiaomi Macbook Air Specifications & Price
Xiaomi Macbook air specifications and price is given below and you can see how cool it is as compared to Apple Macbook:
Key Specifications
Intel Core i5-6200U, up to 2.7GHz
8GB DDR4 RAM
256GB PCIe SSD (with an expandable SSD slot)
For game addicts: Dedicated NVIDIA GeForce 940MX graphics card
Size-wise: 306.9 mm x 210.9 mm x 14.8 mm with weight of 1.28 kg
13.3-inch, full-HD (1,920×1,080-pixels)
Type-C USB for charging, 2x USB 3.0, 1x HDMI, 3.5mm audio port
40Wh battery, 9.5 hours
Price
The announced price is 3599 CNY and when we convert it we get $540 for the 12.5-inch model with the larger, flagship model coming in at 4,999, or $750.
Xiaomi Macbook Air is going to start sale from August 2.