(Last Updated On: April 24, 2018)
We know that, we need proxy sites to run secret site stuff on PC sometimes. We also use proxy sites to access blocked sites in our country and by using proxy can enable the access of the restricted sites. Charles is an HTTP proxy software that allows developers to view all of the HTTP, HTTPS (SSL) traffic between developer's machine and the Internet. It is also known as, HTTP monitor and Reverse Proxy.
It includes requests, HTTP headers (cookies and caching information) and the server responses. Charles web debugging proxy software supports multiple operating systems i.e., Windows, Linux and Mac OS X. In this article, you will find the downloadable .zip file for Charles web debugging proxy 64-bit setup for Windows.
Charles Web Debugging Proxy
Charles web proxy runs on your own computer and you can simply access the debugging area inside your PC, or web browser whichever is configured to access the Internet through Charles.
Charles debugging proxy application will display all of the data that is sent and received. Charles makes debugging faster, reliable and advanced (next level) saves your time. You are not able to view the information that is being sent and received between web browser / client and the server, in web and internet development mode. Charles makes it easy to see what is happening, so you can quickly diagnose and fix problems.
Key Features
SSL Proxying: view SSL requests and responses in plain text
AJAX debugging: view XML and JSON requests and responses as a tree or as text
AMF: view the contents of Flash Remoting / Flex Remoting messages as a tree
Bandwidth throttling to simulate slower internet connections including latency
Breakpoints to intercept and edit requests or responses
Edit requests to test different inputs
Repeat requests to test back-end changes
Validate recorded HTML, CSS and RSS/atom responses using the W3C validator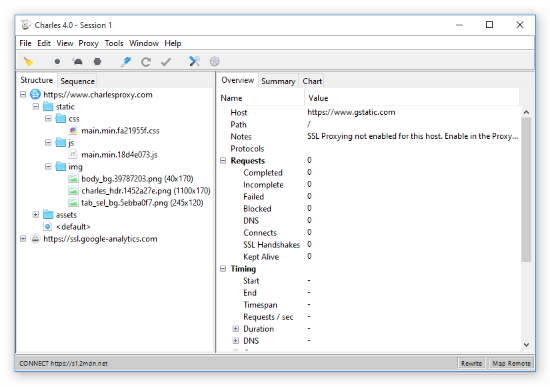 Charles Web Debugging Proxy Setup Details
Title:

Charles Web Debugging Proxy

Version: 3.11.4.x64

Setup file name:

 Charles.Web.Debugging.Proxy.3.11.4.x64

File size:

  71.1 

MB

OS Compatibility:

 

Windows 64-bit (x64)

Developers:

 Charles Web Debugging
System requirements to run Charles Web Debugging Proxy
OS: Windows XP/Vista/7/8/8.1/10
RAM: 1 GB RAM is required
Hard Drive storage: 100 MB space is required
Processor: Dual Core / Core 2 Duo or later
Download Charles Web Debugging Proxy
Download the Charles web debugging proxy software for Windows 64-bit by clicking the download button below but if you are not using Windows OS then, go to official download page to choose your OS.