Recently, we published an article with the list of 100% working VPN proxy sites online in 2017 and I thought to write this article for those who are trying to make their computer a proxy-based server. Why would someone want to make their computer a proxy-based server because sometimes we look for information online that includes deep web searches and for that many sites are already blocked by our ISP (Internet Service Provider), in order to bypass the restrictions, we use proxy sites, servers online to access blocked websites. If you access the deep web more frequently, then it would be a good idea to make your personal PC a proxy-based server with Ultrasurf software.
Ultrasurf (Privacy, Security, Freedom)
Ultrasurf is a computer-based software that you can install on your computer to protect your online privacy and access the deep web on your computer without any restrictions. Ultrasurf is a production by Ultrareach Internet Corporation which was created with a sole purpose of helping online users to access blocked websites.
Ultrasurf is one of the most popular proxy software worldwide to bypass the ISP restrictions. Ultrasurf is a pro-privacy software that helps you to bypass internet censorship and protect their online privacy. Ultrasurf is already being used by millions of people worldwide.
Why Ultrasurf?
Circumvent internet censorship
Encrypt online communications
Hide your IP from websites visited
No installation required
Fast page loads
Easy to use
You can also access Ultrasurf in your Android smartphone/tablet if you want to access blocked websites on your phone.
How to make your computer a Proxy-based server with Ultrasurf
Don't worry, Ultrasurf protects your privacy online by hiding your web IP address, clears browsing history, cookies, and more. It is secure because it uses strong end-to-end encryption to protect your data transfer from being seen by third parties. So, just focus on your work and use Ultrasurf bypass internet censorship to browse the internet freely. To make your computer a proxy-based server with ultrasurf, follow the steps:
First of all, download Ultrasurf software in your PC, extract the downloaded zip file, in your PC. Once done, double-click u.exe file.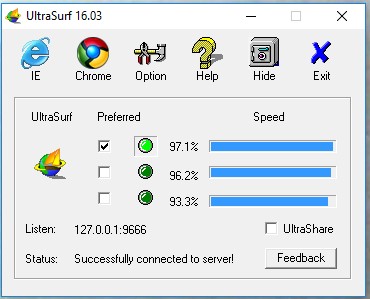 Once, the Ultrasurf software runs on your PC, you will be able to surf the web anonymously. The above screenshot shows, the status: connected or not connected.