Samsung is one of the best smartphones manufacturer and everyone knows that. You can do more than you can imagine with your Samsung smartphones. You can flash custom ROMs, flash stock firmware official released by company using odin flashing software made for Samsung devices. This article will guide you to install stock firmware on Samsung devices using Odin. Doesn't matter which Samsung smartphone you have. Just use the following guided method and start flashing stock firmware on Samsung smartphones.
Install Stock Firmware on Samsung Devices using Odin flashing tool
Did you ever brick your device? Or have you ever wish to have latest Android version before the official release by the smartphone company? Yes? Of course everybody want to do new stuff and sometimes it turns out to be difficult right. Just relax, you can now upgrade or downgrade your Samsung smartphone very easily without having to worry so much.
There are many online guides available regarding flashing stock firmware on Samsung and mostly don't worry sometime but we here do our best to give live example on how to install stock firmware on Samsung device using Odin.
Without Odin flashing tool, you won't be able to flash or install stock firmware on your Samsung devices. So we are recommending you must install programs in your PC before you start flashing stock firmware on your Samsung smartphone.
Be Advised
Make sure you don't the right firmware file for your Samsung smartphone before you flash it on your smartphone. Never miss any step from the step by step guide below. Otherwise you might brick your device in the middle of flashing. It is also advised that you must have at least 80% charged smartphone.
Nobody loves waiting, and if the stock ROM is made available for your device but the OTA update is not coming for your device then we using Odin flashing tool and download the right firmware to install/flash on the smartphone and get the up to dated version. If you are also one of those people who don't like to wait for the official OTA update and searched for stock firmware for MODEL and want to flash it using Odin flashing tool, just follow the guide below.
How to OTA Update?
An over-the-air update (OTA Update) is a wireless delivery of new software updates or data to smartphones and tablets. As wireless carriers use the method of over-the-air updates to deploy Firmware and configure phones for use on their networks.
Settings → More → About Device → Software update → Update.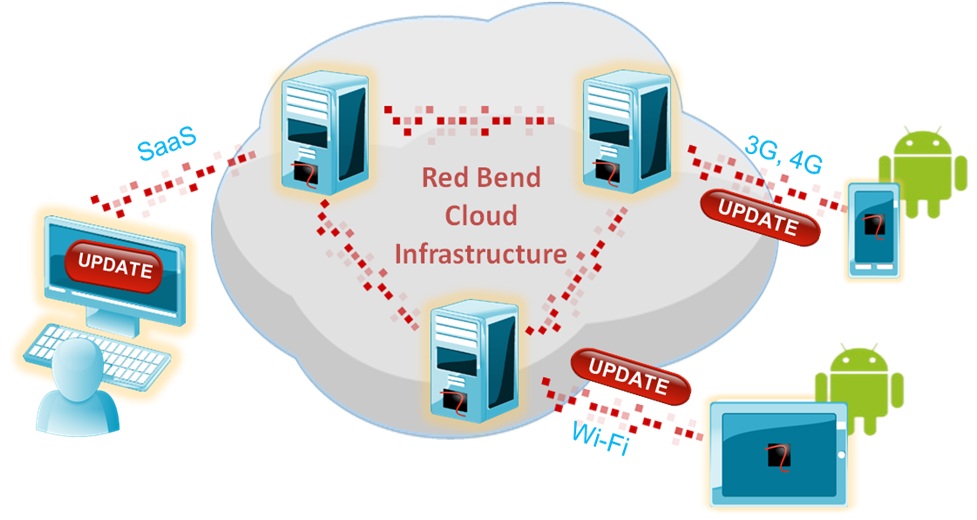 Must install programs on PC when flashing Stock firmware:
Install Stock firmware on Samsung devices using Odin
Follow the steps below to install stock firmware on any Samsung device:
Make sure you have the Stock ROM downloaded for your Samsung device that you will be flashing on your smartphone
If you have firmware ready for your device, enable USB Debugging (You can request firmware for your device at firmwarepack.com)
Make sure your phone is 80% charged (If you phone goes dead in the middle of the process, you might end up bricking up your device)
What is Enable USB Debugging?
To enable the USB Debugging, follow the steps:
Go to your Settings -> About Phone -> Now Tap on the Build Number 7-8 times then you will see message appeared on the screen i.e., "Developer option enabled"
From Settings -> Developer options -> Enable USB Debugging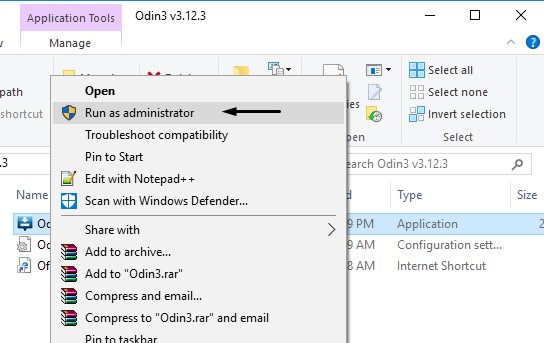 Reboot your Samsung device into Download Mode

Power off your phone, wait for 5 seconds then press + hold (Home + Power + Volume Down buttons) till you see download mode on the screen

Here, connect your device with PC using USB cord
After connecting your device with Odin you will see a blue sign in Odin (connected device sign with Odin)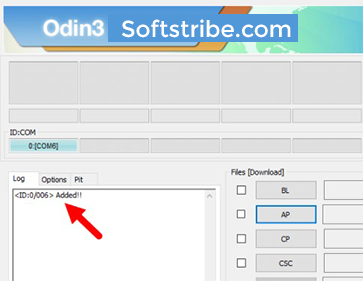 Once your device is connected with Odin, find the firmware file on PC and add in Odin by clicking AP/PDA button, you can see in the image below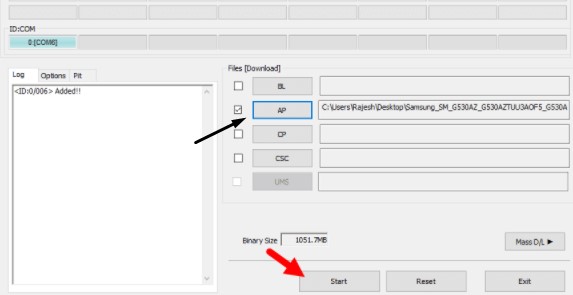 Before you click start, make sure you don't have re-partition ticked in Options tab beside Log tab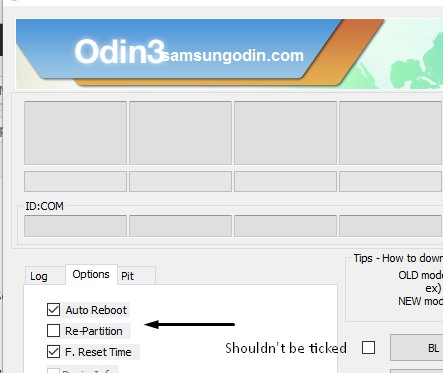 Now, you can click START button
Wait a few seconds and you will find PASS green message on Odin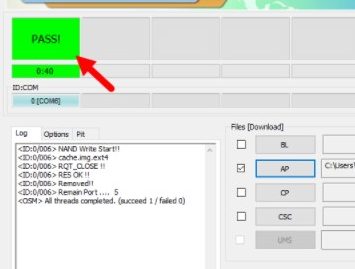 Your Samsung Device will now stuck at boot menu and you might see it restarting again and again
Unplug your device from PC and go to recovery mode on your device
Press + hold (Volume UP + Home + Power button) and leave the power button when your phone vibrate but don't release home and + volume up buttons, after a while you will automatically boot into the Recovery Mode of you Samsung device
From recovery mode, wipe out data and factory reset
Simply, Restart Phone now from the recovery mode
But if you don't find your device stuck in the boot menu then you can safely unplug it from the PC and enjoy the latest firmware installed on it. You might wanna wipe data/factory reset and cache data.
Note: Don't use or do anything with your device while the flashing process is being done. It might brick your device if you get your phone unplugged from your PC even accidentally.
That's how we install stock firmware on Samsung devices.