Bitcoin has become the world's largest digital currency network. By April 2017, it was under valued 1,190$ but as of now, it is $5000+. The investors yet believe that it will go more higher because the supply of these coins is short. While the demand is getting higher and higher day by day. If you don't know about Bitcoin yet, then you might wanna search the word "Bitcoin" on Google. You will definitely get some really interesting results about Bitcoin. So, I decided to write on how to get Bitcoin Debit Card with Cryptopay but before I move forward, let me tell you a bit more about Bitcoin and what can you do with it.
Things you know about Bitcoin, and how it is really gonna kill the corrupt banking eco system near in future. This Bitcoin digital cryptocurrency is really going viral as of 2017 and increased by 400% in the year.
Microsoft Owner, Bill Gates says about Bitcoin in an interview:
Nobody can stop Bitcoin, it is unstoppable
Bitcoin Digital Cryptocurrency
Bitcoin is one of best crypto-currency and digital payment system worldwide. It is decentralized digital currency, it works just the way system does and there is no central administrator. That's how Bitcoin can kill the eco system of banking as of today, banking is the modernized way of corruption. While Bitcoin is completely decentralized and anonymous, you are not being watched where you send the payment, and how much Bitcoins do you have in the wallet. No documents are required to create account. You have complete control over your money. Just chill, and enjoy spending money with Bitcoin. If the price per Bitcoin goes high, that simply means you got a promotion.
Stop wasting money in "Interest based banking schemes"
Stop wasting your previous time investing in "Interest based banking schemes" because they won't give a sh*t about you. All they care about making money out of yours. Interest based schemes are not good and they will make double of your money then you do with the scheme doing real estate business. I prefer spending money in real estate business than that of those interest based schemes, and I suggest you to do the same. However, in the today's modern world, investing in Bitcoin will be an intelligent choice. Because Bitcoin cryptocurrency is going viral and there is literally no supply of Bitcoins and the demand is going higher day-to-day. Applying economics supply and demand rule, higher the demand and less the supply will end up the price go higher.
To know more about Bitcoin and its amazing features, you might wanna read the rest of the article where I've described in details regarding Bitcoin cryptocurrency. Bitcoin digital currency was invented by Satoshi Nakamoto and it is open-source.
Bitcoin is Decentralized
The system is peer-to-peer and the transactions take place directly user-to-user and completely untraceable. The transactions then verified by network nodes and listed down in the ledger (public) known as blockchain. People must realize that Bitcoin can be held as an investment and they should make it that way. It is more effective investment in my opinion than that of real estate.
In this article, I'm going to help you create Bitcoin debit card with Cryptopay.

Bitcoin Debit Card with Cryptopay
With Cryptopay you will have better way to manage your Bitcoins and shop with your Bitcoins wherever you go around the world. Cryptopay will get you Bitcoin debit card that can be used any grossary store you go in.
Cryptopay bitcoin debit card links Bitcoin with traditional finances that means you can live in the real world with digital currency. It will be really amazing to have digital currency in your debit card while you live in the real-world. The Cryptopay Bitcoin debit card works in any stores and online shops hassle-free wherever debit card is accepted.
How to order Bitcoin debit card with Cryptopay
No more time-wasting SEPA transfers and buy BTC using your local debit or credit card. However, you can also deposit your BTC from your exchange wallet right in your Cryptopay card. But, when you done depositing your funds in Cryptopay, you will be able to apply for Bitcoin debit card but it will require you to verify your account first by providing legal documents i.e., National ID, Passport, Driver's license (But make sure these documents are not expired because they won't accept your document if it is already expired).
After getting your account verified, you will be able order your Bitcoin debit card with Cryptopay by clicking the image below:

Steps to get Cryptopay debit card
Follow the steps below to get Bitcoin Debit Card by Cryptopay:
Login to your Crpytopay account
Make sure it is verified
Once, you are logged in scroll down
You will see Order a card link on the page

How to add funds in Cryptopay account
Follow the steps below:
First of all, login
Link your local bank's plastic card through the account settings
Buy bitcoins in a tap of the button
However, install the Cryptopay App to buy & sell Bitcoins with a bank card on the go.
Cryptopay Debit Card  Fees
Card price:  $15.00
Free Standard worldwide delivery
Express worldwide delivery: $75.00
Monthly service fee: $1.00
Loading fee: 1%
If you are agreed upon the fees that Cryptopay charge for the Bitcoin debit card services then you can click on Continue to proceed on ordering debit card.
Now, on this next step you will have to fill your personal information including your name, address and date of birth.
Unfortunately, I can't apply for the Bitcoin debit card because Cryptopay don't support Pakistan country in the list of countries and I'm from Pakistan.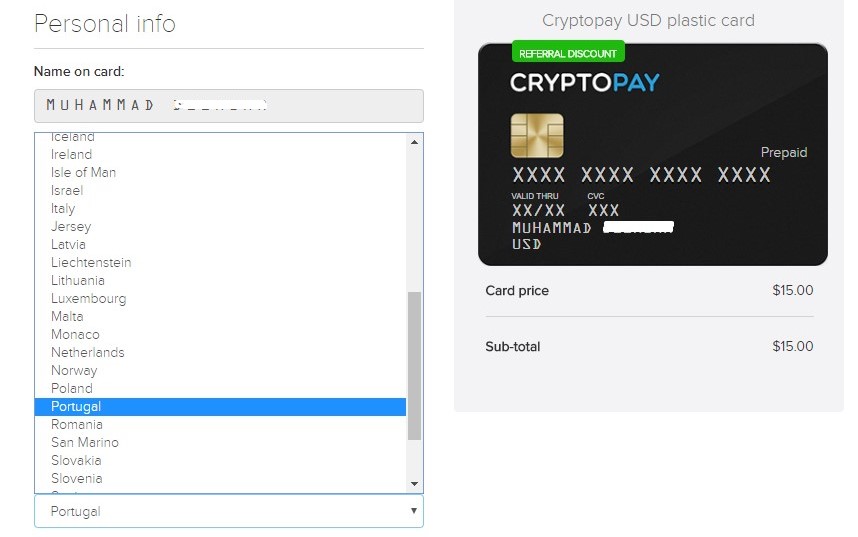 However, I bought Bitcoin and transact Bitcoins using Cryptopay and their services are so awesome. This is just debit card they won't allow for Pakistani users. I'm really disappointed to see that. I can be able to hold my bitcoins securely in a flex account of Cryptopay and it makes it easy to convert your bitcoins into the fiat currencies supported. You can also secure your money while Bitcoin price fluctuations.
Create your Cryptopay account today, and send your bitcoins to anyone and spend them with our debit card at businesses all over the world. You can easily take advantage of instantaneous conversions and let your money move further.
Cryptopay ICO
There is an initial coin offering by the Cryptopay that means they are launching altcoin (CPAY) of their own. The name of the coin will be CPAY. The team is creating a seamless bridge between crypto and conventional assets that will definitely save the time of investors and allow them to invest, move, and manage their money, all in one platform.