Recently, we had posted an article that warns Android users not to install unauthorized apps in their smartphones or tablet because unauthorized Android apps can hack Gmail accounts with a success rate of 92% (Ninety-two percentage) but Amazon hacking is somewhat harder but not impossible and it is found that Amazon accounts can be hacked at a success rate of 48% (forty-eight percentage) which is difficult to penetrate the Amazon security, the researchers of universities Michigan and California Riverside says.
In this age of technology, scammers have found a really easy way to hack into Gmail accounts of Android users by simply providing them malicious apps. Well, malicious apps have become most popular and common ways for scammers to gain control of your smartphone/tablet so easily. In this case, the malicious apps start working to hack into Gmail accounts to instantly get access of your account.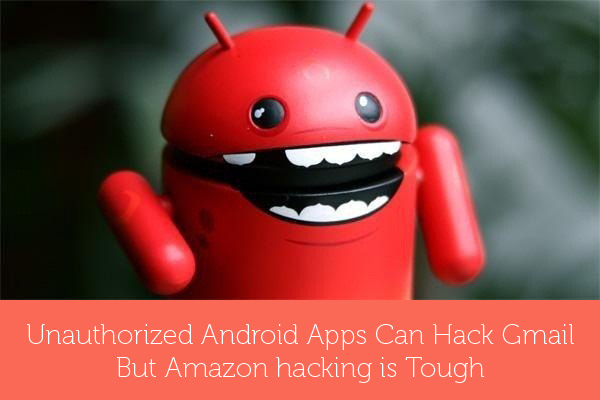 People have been asking and commenting to know that What about already installed Android apps? Will those apps get vulnerable once the malicious Android apps start hacking into your Android device?
Answer: Yeah, only one single malicious app can infiltrate other apps on the Android device, regardless of their levels of security.
However, "The fundamental reason of this confidentiality breach is basically in the official Android GUI framework design which every UI state change can be unexpectedly observed through publicly accessible side channels," the report says.
This side channel exists because shared memory is commonly adopted by window managers to efficiently receive window changes or updates from running applications.
Before that "there was an assumption about one app can't interfere with each other easily," Qian said in a statement. "We show that assumption is not correct and one app can in fact significantly impact another and result in harmful consequences for the user."
Moreover watch this video:
And I hope you have finally understood that the assumption about one app can't interfere with each other easily is incorrect.