As we know that .pdf is an e-book (Internet Book) and to read these files we will need the Android apps that read .pdf files. In this way, I'll show you awesome PDF reader Android apps If you are looking for a good PDF reader to have in your Android device just stop here, because you have found it not only one but almost 10+ PDF reader Android apps in this one article.
Awesome PDF Reader Android Apps
Adobe Reader
Adobe Reader is the free, trusted leader for reliably viewing and interacting with PDF documents across platforms and devices. Install the Reader mobile app to work with PDF documents on your Android tablet or phone. Easily access, manage, and share a wide variety of PDF types. Use with Adobe Document Services to convert and export PDF files.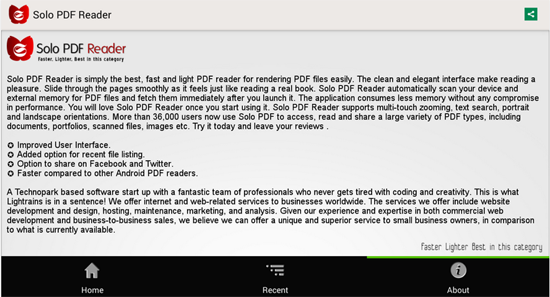 PDF Reader
PDF Reader is really an awesome Android application for easy book and document reading with PDF and DjVu for comfortable and pleasant read. Small size, clear, functional, fully customizable, choose the way you prefer to read. PDF Reader application find all books on your device and display document thumbnail on your Android device. You can easy fixate document and read by simple finger tap.
EBook Reader & PDF Reader
If you are looking for a good e-book reader & PDF reader, this one will be the best choice. EBook Reader is a highly customizable document viewer. It's optimized for Android devices. One of the best e-book document viewer for Android.
Get EBook Reader & PDF Reader in Android
PDF Viewer
This PDF Viewer Android app is an awesome PDF viewer. This is a fork of ebookdroid with a bunch of stuff removed. I also feel that the name PDF Viewer will help it to be used by more people instead of Adobe Acrobat. This app is free and open source.
PDF Reader
PDF Reader is one of the best reading tools. It can help you to easily manage, and open all the ebooks on your phone.
Supports e-book formats: PDF, DjVU, XPS (OpenXPS), FictionBook (fb2 and fb2.zip), Comics Book formats (cbr and cbz), plus – starting with version 2.0 – EPUB and RTF.
Radaee PDF Reader
Radaee PDF Reader is a fastest PDF Reader. It's completely free PDF Reader which has fastest rendering speed and best language support. This PDF reader mainly supply:
Fast rendering speed without preloading cache
zooming(Multi-Touch) && searching && text selection or highlight
6 view layouts and PDF outlines view
some customer setting
single tap annotation to edit or perform or play media
Android PDF Viewer
Offline Java PDF viewer for ANDROID. Get this.
Foxit MobilePDF
Foxit MobilePDF provide you the best way to easily access, annotate, manage and share PDF files on your Android phone or tablet. It delivers industry leading capabilities to utilize PDF documents on the go. Foxit MobilePDF is based on the same technology as Foxit Reader. Now, with Foxit MobilePDF, you can start to enjoy your comfortable reading trip on PDF documents anytime, anywhere.
Get Foxit MobilePDF in Android
EBookDroid – PDF & DJVU Reader
EBookDroid is a highly customizable document viewer for Android. Get it
Solo PDF Reader
Solo PDF Reader is simply the best, fast and light PDF reader for rendering PDF files easily. The clean and elegant interface make reading a pleasure. Slide through the pages smoothly as it feels just like reading a real book. Solo PDF Reader automatically scan your device and external memory for PDF files and fetch them immediately after you launch it.
APV PDF Viewer
Simple Open Source PDF Viewer based on MuPDF library. Get it.
However comment below if you know any Android PDF Reader app that works well but you didn't find that app in the list above. Kindly let us know about that application.