Using Chainfire one-click root you will be able to root your Samsung devices in just a click away. If you found this article, by searching how to one-click root Samsung Galaxy Note 3 (SC-01F) using Chainfire then you are reading the right article.
We are doing are best to provide 100% working guides and if you follow this guide to one-click root Samsung Galaxy Note 3 (SC-01F) then you will be able to root your Samsung Galaxy Note 3. Previously, we have published One-click root Samsung S6 Edge (SC-04G), and unlocking bootloader of Samsung Edge S6.
Make sure you follow this article one-click root only Samsung Galaxy Note 3 (SC-01F) no other Samsung note smartphone. Because it will work only on only Samsung Galaxy Note 3 (SC-01F).
What is Android Rooting?
Android rooting is the process of allowing users of smartphones/tablets and other devices that run with Android OS to attain privileged control within Android's subsystem. Especially, when you want to update your Android device to give your device some extra privileges via rooting. By the way, rooting process is performed when you want to overcome the limitations that carriers and hardware manufacturers assigned with the devices. On rooting the result will alter or replace system applications and settings, run specialized apps that require administrator-level permissions or perform other operations that are otherwise inaccessible to a normal Android user.
For instance, make sure your visit how to root nox app player or rooting bluestacks Android emulator.
By the way, after learning about Android rooting you might wanna know, what is chainfire one-click root right, then here you go:
Chainfire One-click Root Solution
One-click root can be so relaxing right, because you don't have to worry about anything. Previously, you might wanna know how to one-click root BlueStacks 3 on your Windows running PC (32-bit). Similarly, Chainfire is one of the best company when it comes to provide one-click root solutions. Chainfire is known as the greatest one-click root solutions providers on the internet and if you want to one-click root your Android device you will have to search your device in the list of Chainfire site. If you are able to find your device then you can simply one-click root your Android device. Right now, it supports more than enough Android smartphones including Samsung Odin root methods, Google Nexus devices, Motorola, Asus and other devices.
Chainfire One-click Root Solutions
Right now, you can one-click root following Android devices:
Samsung
Google Nexus
Motorola
Huawei (Not all devices some of them)
Asus
HTC (Some only)
Pre-requisites before rooting Samsung Galaxy Note 3 (SC-01F)
Before you follow our guide, make sure you meet the following list of pre-requisites:
One-click root Samsung Galaxy Note 3 (SC-01F) using Chainfire
Download Chainfire one-click root package
Run Odin flashing tool on your computer
Turn off your Samsung Galaxy Note 3 (SC-01F) completely
Go to Download mode, follow the steps
When you enter in Download mode, connect your smartphone to computer with the USB cord
When you see your Samsung Galaxy Note 3 (SC-01F) is connected with PC completely
Since we have Odin flashing tool running, look for blue or yellow ID: COM (Which tells us that Note 3 smartphone is detected)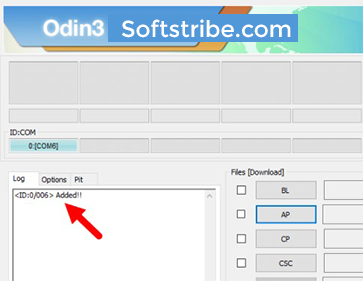 Go to Options tab, make sure you don't click re-partition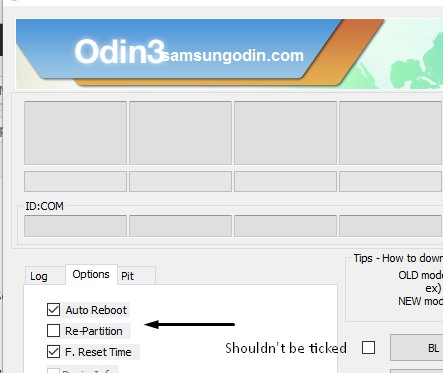 Overall, just don't change default settings of Odin flashing tool (it should be same as default just like you started flashing tool on your PC for the first time)
Chainfire rooting files are .tar.md5 files flashable in ODIN as PDA
Click the AP/PDA button on Odin and upload the rooting file (step #1: select the .tar.md5 file, and click Start)
Wait for a few seconds, till the rooting is completed
In Odin user interface you will see green box with the pass message inside, that means the chainfire root file has been flashed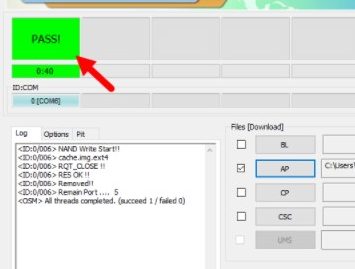 If your Samsung device will now stuck at boot menu and you might see it restarting again and again
Unplug your device from PC and go to recovery mode on your device
How to Enter Recovery Mode in Samsung Devices
Press + hold (Volume UP + Home + Power button) and leave the power button when your phone vibrate but don't release home and + volume up buttons, after a while you will automatically boot into the Recovery Mode of you Samsung device.
In recovery mode, you will be able to wipe out data and clear the cache.
From recovery mode, wipe out data and factory reset
Simply, Restart Phone now from the recovery mode
That's how you can one-click root Samsung Galaxy Note 3 (SC-01F) using Chainfire.
How to check if Samsung Galaxy Note 3 (SC-01F) is rooted
To check if you have successfully rooted your Samsung Galaxy Note 3 (SC-01F) Android emulator on your PC, follow the steps below:
Search Root Checker on your Google Play store and install it
The working of this app is completely easy just run the app
Root checker will display the root status (Whether it is rooted or not)
In case you miss any of the steps from the guide, we are not responsible of bricking your device.
So, before you follow our guides, make sure you read the disclaimer.