In this article, I'll show you guys how to easily enable the Developers Options and USB Debugging Mode in Samsung Galaxy S5. Where USB Debugging Mode allows you to establish a connection between your Galaxy S5 device and to your computer. This will help you to transfer data files between your Galaxy S5 device and computer more flexibly and easily. Whereas you will also need to enable the USB Debugging mode when you try to flash any new Custom ROM updates, when there is no OTA available.
Where the Developer Options feature in Galaxy S5 has various elements as listed here:
Set a Desktop Backup Password
Disable or Speed Up Animations
Force-Enable FXAA For OpenGL Games
See How Bad Task Killers Are
Fake Your GPS Location
Stay Awake While Charging
Show Always-On-Top CPU Usage
Enable USB Debugging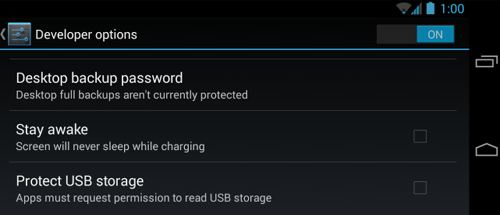 How to Enable Developer Options in Galaxy S5
Go to App drawer
From Settings → About Device menu
Here, look for Build Number
Just tap over build number section about seven times
On seventh tap, device will tell you that you are now a developer
Simply, go back to Settings menu
The Developer Options menu will now made available in your Galaxy S5
How to Enable USB Debugging Mode in Galaxy S5
Follow the steps below:
Go to Developers Options menu
Scroll down to Debugging Section
Now, just enable USB Debugging by ticking the box that says USB Debugging
That's all. Congrats you are all done.
Hint: If you want to establish connection between your Galaxy S5 and with you PC then you will need to install Samsung drivers in your computer.