Android is the most popular operating system designed for smartphones. People do various things with their Android device due to its open-source. Downloading different things from the Internet is one of the common things that people do. If you are one of those who used your Android device to download things from the Internet, then you should feel the pain of slow downloading, this commonly occurs if you use the browser's built-in download manager. This is because browsers are designed to surf the web, not download, so they slow down the download to give you a better web browsing experience.
Alternatively, you can use the default Android download manager, but it gives you a very slow download and doesn't allow you to pause or queue. So if you use your Android's default download manager it will give you an annoying experience.
In this case, you can use any other third-party download manager. These download managers download the file at the actual Internet speed provided by the ISP. They divide your file into different parts, therefore shortening the download time.
So here we have chosen the list of the 10 best download managers for your Android devices that will give you a better download experience.
Best Download Managers for Android
ADM (Android Device Manager)
ADM is one of the most popular and used download managers on Android. Divide the file into several parts so that the download can be much faster than the default. The user can download multiple files at once and offers queuing functions that allow him to download multiple files easily. ADM offers the ability to resume, so if your internet connection is lost during download, it will continue to download from where you left off.
Almost all browsers, including Chrome, Opera, UC, VIA, etc., are ADM compatible and once you press the download button in the browser it will ask for your permission, tapping ADM will automatically start downloading your file. If the browser can't find ADM, just copy the download link and paste it into ADM or you can use your built-in browser. Overall it's the best IDM-like download manager on Windows and of course, it's free too!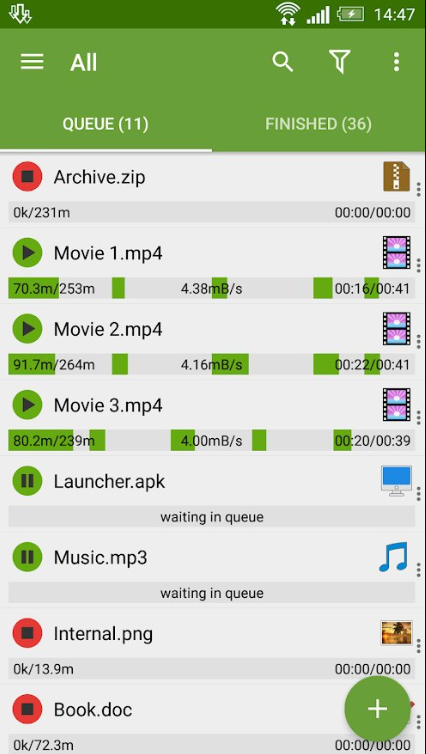 Get it from Play Store | Download APK | ADM for PC
Turbo Download manager
Turbo Download Manager is a powerful and easy to use download manager that aims to provide a better and reliable download experience. It uses multiple HTTPS connections to increase download speed and shorten the time. Users can increase their number of pieces to speed up. It offers up to ten parts of a file to divide.
Almost all types of browsers are supported, such as Chrome, UC, Opera, etc. It has the pause/resume capability so you can pause or resume the file as you like. Users can directly download their files to the SD card or any other custom path without any jailbreak. TDM comes with MD5 hash validation to ensure your file is not corrupted during download. An additional feature is that it also comes with its own browser, so you can download the file if the browser doesn't access it. It is a completely free application that contains some ads.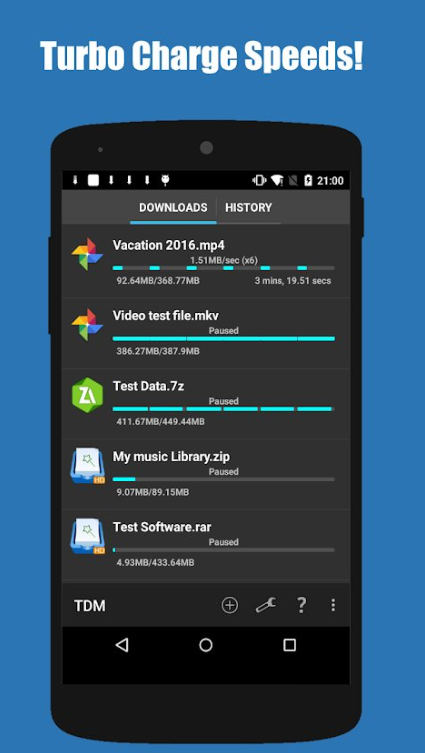 Get it from Play Store | Download APK | Turbo Download manager for PC
DOWNLOAD MANAGER
Download Manager is a very simple and easy to use download manager. It is much more stable and secure than any other third-party download managers. It offers a download speed five times faster than other download managers available. Download manager comes with a built-in file manager that allows you to access your downloaded file with just a touch.
Automatically captures the downloadable link from your browser and automatically start the download and continues the download even if the screen is off. It allows the user to download multiple files without loss of data or quality. If it doesn't capture the downloadable link, you can easily add it by copying the link and pasting it into the app.
It will show all the details of the file download and allows you to divide a single file into several parts (Multithreading). You can easily download your file directly to your SD card without any problem. You must test the application if you are looking for download managers for your Android device.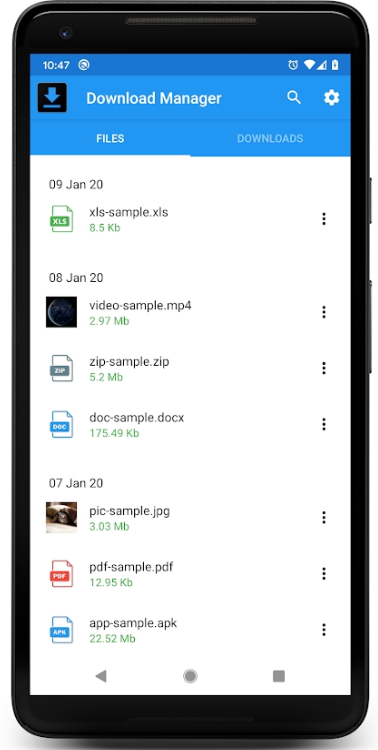 Get it from Play Store | Download APK | DOWNLOAD MANAGER for PC
LoaderDroid
Another better app that makes room on our list is LoaderDroid. It is similar to other download managers and works by dividing your file into different parts to speed up the download. You can download almost any type of file in any format.
Like others, it also offers pause/resume options and you can continue the download if a file is broken or your internet is lost, which is the reason for its popularity.
It offers different download methods, such as you can download directly through the browser or you can manually copy and paste the download links into it.
Sometimes when you try to download a file an entire web page is downloaded which is so annoying that LoaderDroid can get rid of this it has a special web page blocking option that will never allow you to download a page so it will only download your archive.
Overall, LoadeDroid is a free, best, and secure AD-based downloader for Android.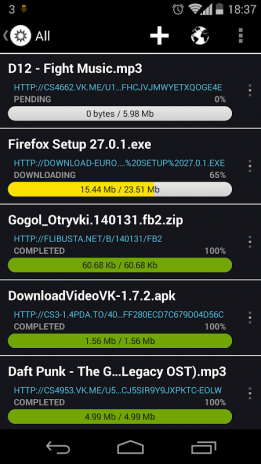 Get it from Play Store | Download APK | LoaderDroid for PC
IDM: Free Video, Movie, Music & Torrent downloader
IDM is another fastest downloader for Android on our list. Basically it is one of the fastest downloaders aiming to provide a user up to 500x faster than normal download and best of all it supports torrent download so you don't have to search for additional torrent downloader. Its best quality is that it doesn't run in the background if there is nothing to download, it will stop working and save your phone battery efficiently.
It splits a single file of up to 32 different parts to speed up download and can run up to 5 downloads at a time. You can use your pause and resume option so you don't have to worry about losing your internet connection. With its torrent support, users can easily download torrent files via magnetic link or via a torrent file which makes it convenient. This app consumes a much smaller amount of RAM, even if it is fully working.
So if you are looking for the best downloaders it will be your best choice!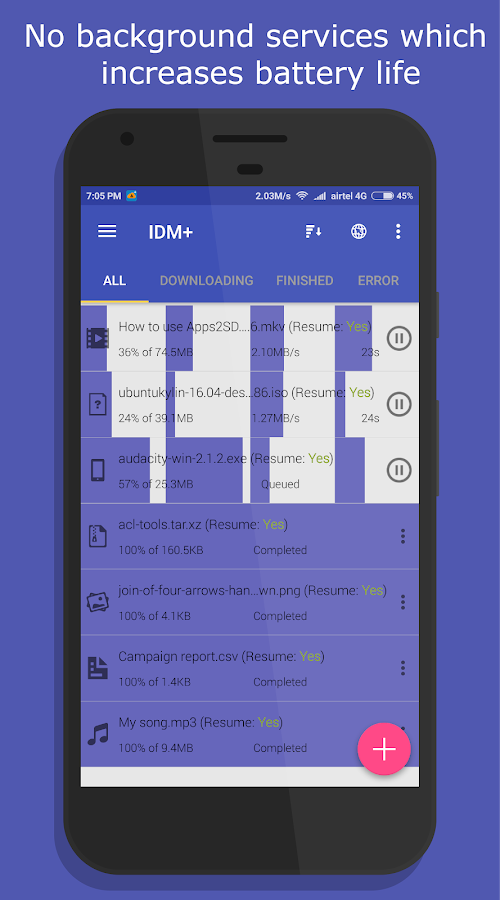 Get it from Play Store | Download APK | IDM for PC
Fast Download Manager
Another better app is here. This application is an excellent downloader that allows you to download your favorite file easily and quickly. It is compatible with almost all types of browsers and automatically captures the download link.
Uses Multithreading to increase your download. You can use your default browser or built-in browser to download your file efficiently. This downloader has no restrictions and you can download unlimited files as you like. It has its own file manager so you can manage all your downloaded files. Finally, it is a wonderful minimalist downloader!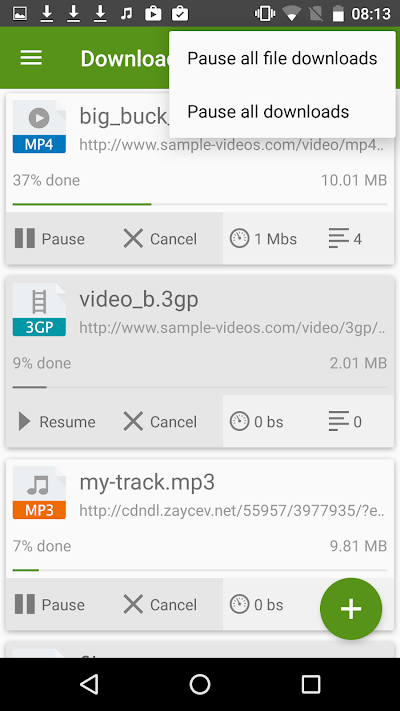 Get it from Play Store | Download APK | Fast Download Manager for PC
Download Manager
It is one of the best download managers for Android, users can download almost any type of file with just one click. Like others, it also splits a single file into several parts. It does not provide unnecessary options, all its options and features are available on the home screen.
It allows pause or resumes options and you can download even if your file is broken or damaged. The best thing about this app is that it supports MD5 Hash validation to prevent the file from getting corrupted. But it's a fully AD-based app and sometimes plays 30-year-old video ads that will annoy you sometimes, but of course, it's totally free.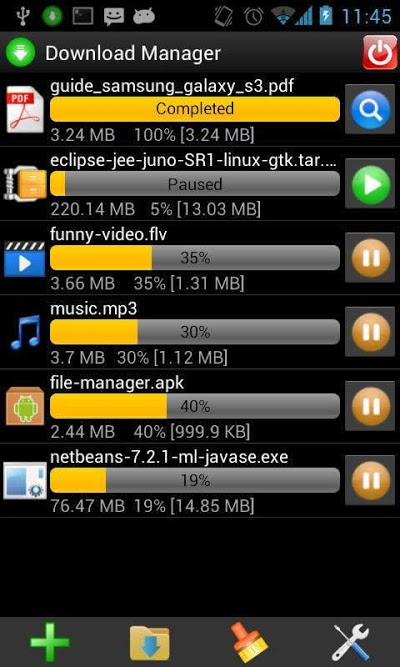 Get it from Play Store | Download APK | Download Manager for PC
Download Accelerator Plus
Download accelerator plus is a completely free download manager and a must-have application. Its working is just like others it divides a single file into multiple parts to speed up acceleration.
It supports almost all types of files and browser and you can add your download manually by adding the link on it.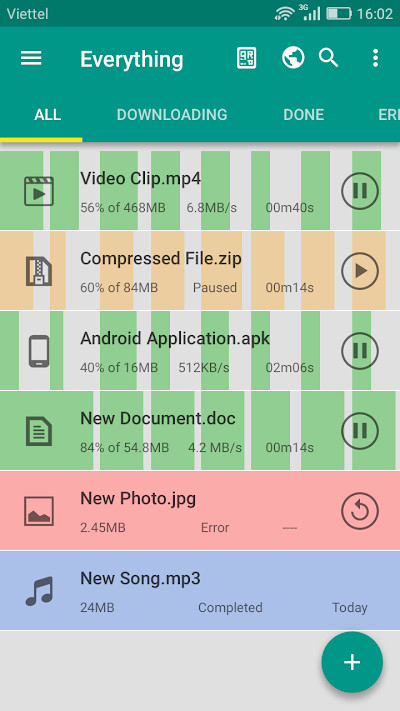 Get it from Play Store | Download APK | Download Accelerator Plus for PC
Downloader & Private Browser – Kode Browser
Downloader & Private Browser lets you download audio, images, pictures, and other files instantly to your Android smartphone from your favorite sites. With the in-media player, you can store all of your videos and music downloads in a secret encrypted-folder that only you can reach and enjoy your favorite files offline.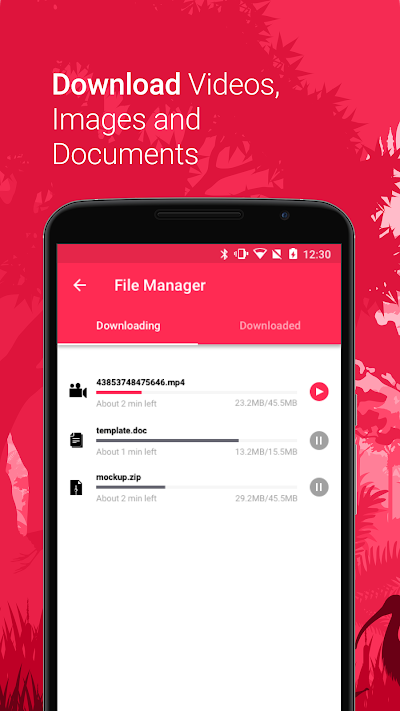 Get it from Play Store | Download APK | Kode Browser for PC
FVD – Free Video Downloader
FVD is a tool that helps you to install files directly to your computer from several sites, and you can access them anytime you want to save online traffic. When enabled, you just need to use your favorite browser or the one built browser and go to the chosen web site and pick the file. The FVD icon would appear, and you can download it.
Get it from Play Store | Download APK | FVD for PC