When you press the power button, the first thing you see on the display is your lock screen. There are various lock screen designs, different brands customize their lock screen as per their taste, and some use their default Android lock screen. Brands like Samsung, Huawei, Xiaomi, Oppo, Vivo customize their lock screen to provide a unique user experience and other brands like Google Pixel and Nokia use simple lock screens fully in stock for a user to give them simplicity.
Android is completely open-source software and offers you to completely customize your device according to your tastes. If we talk about the lock screen, you can also customize it completely. There are millions of apps on the Play Store that allow you to fully change and customize your lock screen according to your needs so you can get a lock screen of your choice. So below are some of the top 10 selected lock screen apps for Android in 2020.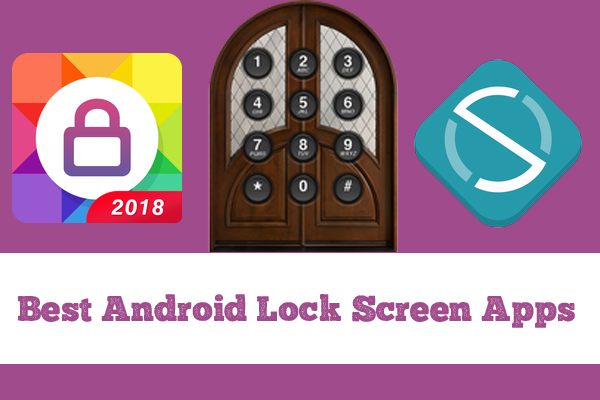 Best Android lock screen apps
Floatify
Floatify is the best app if you are looking for a complete stock experience. Floatify is the best option if you want to customize your lock screen. App offers a professional lock screen experience and comes with amazing modern features. You can change both shortcuts at the bottom and replace them with your needs.
It offers adding a mini head-up button just like a Facebook messenger app so you can easily read your incoming message without unlocking your screen. You can even add up to 5 useful items, e.g. weather, mini head ups, upcoming events, and reminders. The application comes with different popular built-in themes, e.g. Galaxy S8, IOS 10 and stock mode which will be your default theme so you can easily upgrade your lock screen with these amazing themes. However, it is simply the best app if you are looking for a simple lock screen app.
Get it from Play Store | Download APK | Floatify for PC
Hi Locker
HiLocker is a lock screen that has a lollipop essence but also gives you the ability to customize that lollipop lock screen. Once you install and open the Hi Locker app, it will show you the three different styles to choose from. One is the simple lollipop standard, the IOS style and the other is the classic style, but they are all somewhat similar to each other.
The application is loaded with full customizations. You can even change the clock styles of your choice or you can add any third party clock themes that this app supports and you can also change the message notification style and event reminder. It even offers to change the font style without any root. You can add any lock screen message in the app, which can be a quote or other message as per your choice.
Get it from Play Store | Download APK | Hi Locker for PC
KLCK Custom Lock Screen
With KLCK you can make your Android lock screen amazing and fantastic. You can customize your lock screen according to your imagination. The application is similar to KWGT widgets. KLCK Custom Lock Screen app is endless, it allows you to design the lock screen as your choice, you can completely create your lock screen according to your taste.
It comes with an integrated editor with tons of skins and features to design the best custom lock screen. You can add time, notifications, charts, and you can even add your charts. It allows you to add your Google Fit shortcut or Android wear so you can manage your Android usage without unlocking the screen.
Get it from Play Store | Download APK | KLCK Custom Lock Screen for PC
Fireflies Lock Screen
Fireflies Lock Screen is another amazing lock screen app for Android. The most important and attractive feature of this application is its impressive wallpapers. The application can work on almost any Android device without problems. It allows you to select from a wide variety of live wallpapers.
FireFlies even comes with the butterfly flapping animation. You can also change the unlock sound settings because it offers 10 different unlock tones to choose from and supports the swipe option to remove notifications. Also, you can control your music with a music control shortcut and if you don't like your default fonts, you can easily change them in settings. Overall it is the best elegant lock screen app
Get it from Play Store | Download APK | Fireflies Lock Screen for PC
Emoji Lock Screen
If you are frustrated with your boring default lock screen and want something interesting and enchanted when you turn on your screen then the emoji lock screen app is the best for you. It has different beautiful emojis that make the lock screen attractive every time you unlock your smartphone.
Alongside beautiful emojis, you can also change the background wallpapers. When it comes to security, you can add a password, fingerprint, or even face unlock. The best thing about the application is that it is small, powerful and does not consume much battery. The app is not only optimized for smartphones, but you can also use it even on tablets without problems. It is the best application if you like emojis.
Get it from Play Store | Download APK | Emoji Lock Screen for PC
LokLok
LokLok is not like other lock screen apps. The concept behind the app is completely different from other lock screen apps. It is a combination of reminder and lock screen. You can communicate with your friends, family, or others by drawing, writing notes, or sending photos.
The app is fully in sync with you and your partner, or if you want to communicate with more than one, you can create a group of up to eight members. It works by displaying images or doodles on the lock screen. You can easily take photos, draw something on those photos and send this photo to your partner and every time they turn on their phone, the selected photo will be shown to them on the lock screen. This is the best way to communicate or remember something to your partner and in this way, your partner will never forget anything important.
Get it from Play Store | Download APK | LokLok for PC
Start Lock Screen
Looking for a smart lock screen? forget everything you knew about lock screens. Download, start and get ready to be amazed. Starr combines the most awesome, an app launcher with the coolest way to view all your favorite media social feeds pictures and videos without unlocking your phone. Tap on the bottom icon for quick access to your calls your messages camera and apps. It's easy, smooth and it will save you tons of time.
On the right side right where the real fun begins these little starters will keep everything you love in front of you all the time updates from all your social networks are here your news sports and weather, your favorite YouTube channels your photos, one more no problem choose from hundreds of content sources in any language from your Start screen start to make your phone more useful more fun and way more beautiful to select.
Get it from Play Store | Download APK | Start Lock Screen for PC
Kpop Lock Screen
Are you also a very crazy Kpop fan? And do you want to set up Kpop on your lock screen? So, Kpop lock screen app for Android phones is the best. This application works on all Android devices. It offers images of different Kpop members as lock screen wallpaper. It serves amazing HD wallpapers that you can customize according to your needs and choice. It's very safe. Shows the battery status on the lock screen. The advantage of the Kpop lock screen is that it can change the font and size of the text, and it consumes very little battery. It supports more than 10 languages.
Get it from Play Store | Download APK | Kpop Lock Screen for PC
Door Lock Screen
The Door Lock Screen App is another amazing lock screen app that is workable on Android devices. This application is very smooth and has many specifications. It has many HD door themes, p. single door themes, double door theme, keyboard door themes. Every time you lock, unlock, or open your phone, there will be three different sounds for these three different operations. It offers a smooth closing and opening of the door. It has the ability to scan a fingerprint. you on the screen and lock the screen without using the power button.
Get it from Play Store | Download APK | Door Lock Screen for PC
Solo Locker
This lock screen is popular in relation to the number of customizations it provides. It works with a variety of functions, such as modifying your background and adding custom shortcuts to your lock screen. The innovative pattern lock option allows you to link a bunch of photos instead of using the same kind of dots.
You can also customize the password, which makes it an innovative application. The app is available to download for free, but to purchase additional items in the app, all you have to do is take out your credit or debit card. Plus, paid editing removes ads that are a benefit. In addition to using that as a lock screen feature, Solo Locker also has a wide variety of cool backgrounds, so this could be the solution to all your background issues.
Get it from Play Store | Download APK | Solo Locker for PC