Yep, in this article which aims to show you about the most used top 10 image zooming WordPress Plugins that you can use to add an awesome image zoom effect over images inside of your WordPress blog. Meanwhile, I've already written an article about the Image Zooming jQuery Scripts.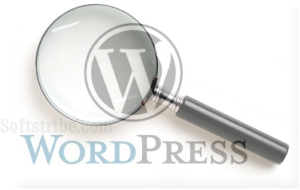 1. PrettyPhoto Zoom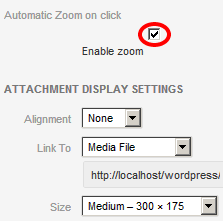 It's a nice WordPress plugin which adds a check-box inside of media window asking for whether should the plugin insert a JavaScript zoom code for a particular image to large image with PrettyPhoto JavaScript or not. This means where you don't want to add a zoom effect then you have the complete access about whether check the box to add zoom effect or leave it as it is.
2. Super Zoom Gallery
Another WordPress Plugin enables you to add a jQuery based image zoom inside of your images gallery. It aims to catch the gallery with thumbnail and add awesome zooming capabilities, it's great one to show the details of the photos. Pretty much easy to use, great for web-shops!
Goto the plugin's settings page by going to Settings > Super Zoom Gallery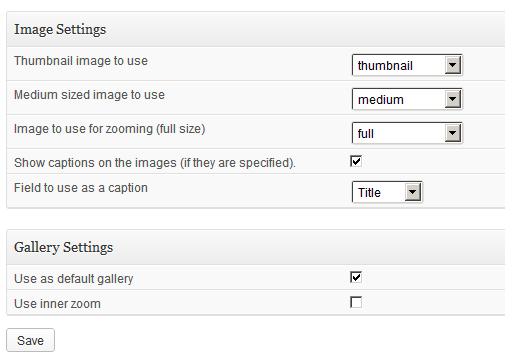 How to Use Super Zoom Gallery?
Simply, follow the steps below to get started using this plugin:
1. Goto Posts > Add New
2. Add Media > Create Gallery
3. Select Multiple images from your computer and add them into the gallery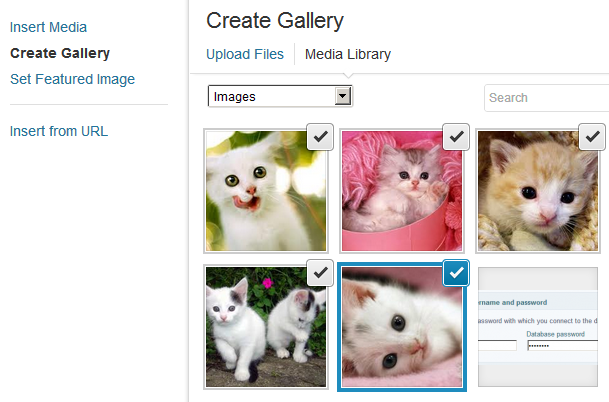 Once uploaded, publish the post and try viewing the post.
3. Image Zoom WordPress Plugin
Allows you to add image zoom effect inside of your blog images used either in the posts or in pages so easily. When you click the image it will dynamically scale-up.
Note: To make your image live in the zoom animation ensure that you must have to insert the images in posts or in pages via WordPress embedded editor.
What can Image Zoom do?
Max width/height of the image to be zoom
CSS3 Transition delay
Position of the buttons inside of zoomed image
Auto-start the slideshow
Opacity of the background
and so on…
Get Image Zoom WordPress Plugin
4. Wp-ImageZoom
This simple WordPress plugin enables you to view the detail of large images, much like the google maps. It makes your blog images from your blog posts and pages the original image and zoom with the different level and a store them as a cache. So, that the visitors can zoom in and zoom-out the images without waiting for long period of time, if the cache of image is made.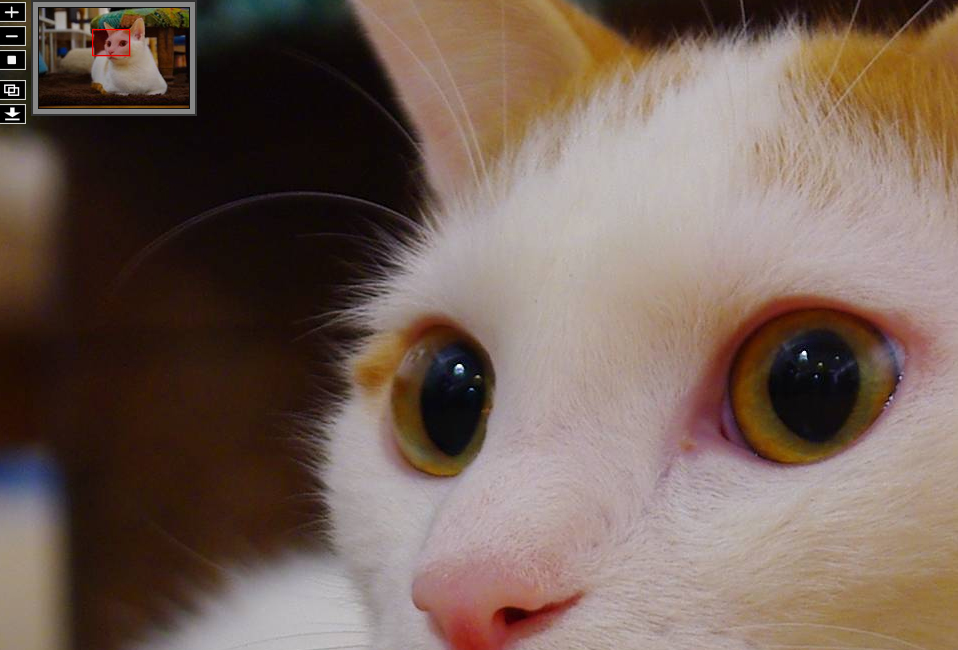 5. TheCartPress Photo Zoom WP Plugin
This plugin is especially made for eCommerce websites to allow the featured images that have used in the website to Zoom in with the ability of showing the buy now button if checked via plugin's settings page.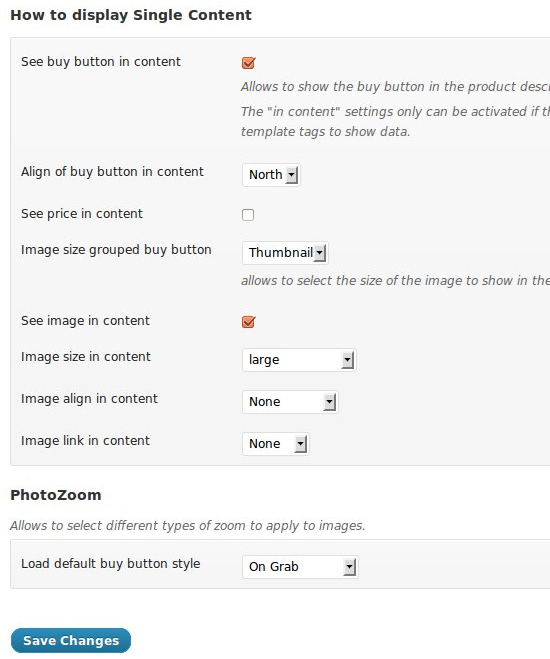 6. Glass WordPress Plugin
Zooming images inside of a WordPress blog made easily, just use Glass WordPress plugin to make it so. It adds a magnifying glass whenever a visitor hover the mouse over an image. So, why not hand your visitors a magnifying glass to see the entire blog post image clearly.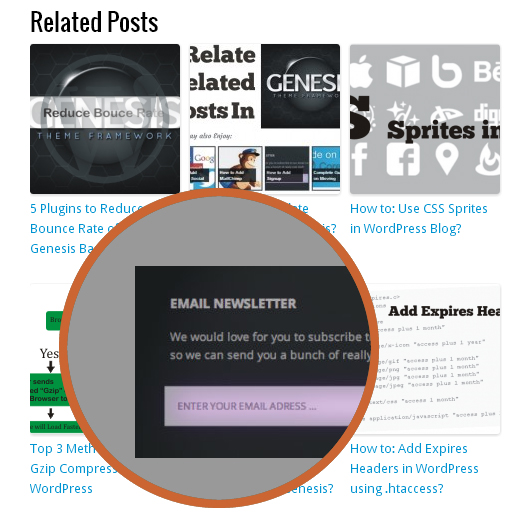 7. Nextend Image Magnifier
Nextend Image Magnifier WP plugin, helps you to publish high-resolution images inside of your WordPress blog posts and pages and let's you add a cool magnifying glass effect to zoom that high-resolution images clearly in the browser.
Some Cool Features
The Image magnification
Support for high-resolution image (Zoomable)
Support for button WordPress default editor and TinyMCE
It works in posts and pages
Highly Responsive
Stylish
Custom layout generator included
The title and description for the images
Works major browsers
It also works in IOS, Android, and other devices
And so on…..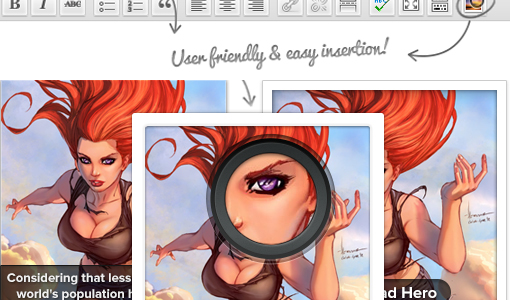 8. Image Zoomer WordPress Plugin
Image Zoomer WP plugin is actually a jQuery zoom tool. It easily magnifies the images in your posts and pages when the mouse rolls over them.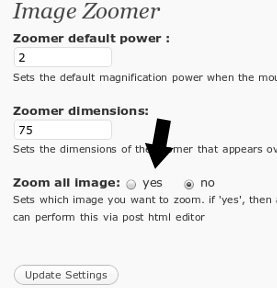 9. ZWoom – WooCommerce Product Image Zoom
WooCommerce WordPress plugin to zoom the product image that will help the visitors of WooCommerce store to zoom the images seamlessly out there used in the website. It comes in action a visitor roll overs a single product image on the product page, on the same time a larger version of that image is popped-out in a popup fancy box. It happens the same with thumbnail images associated with that product.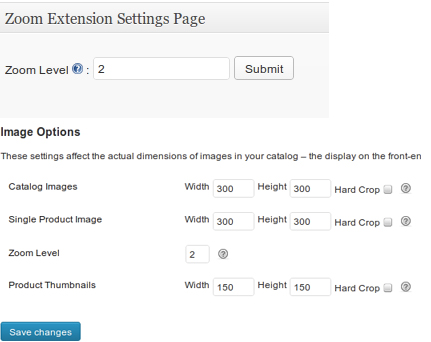 10. WooCommerce Cloud Zoom Image Plugin
It's a Cloud Zoom image WP plugin especially developed for WooCommerce stores. The users will be able to see a clear image of the listed products just by simply hovering the mouse over the images.