Today, I'm going to add a list of best yet top 10+ plugins to broadcast YouTube in WordPress blogs easily. Let me tell you more about what these plugins does and should you use these plugins or not. By the way, once you find a reason about whether should you use these plugins or not you can simply figure out WHY. Using these plugins you can simply embed YouTube videos in your blog posts/pages, or if you have got a channel and want to add a subscribe button in the sidebar of your blog for these little kind of things you can use these plugins and increase your YouTube profile authority fluently.
RoyalSlider is a responsive image gallery and HTML content slider plugin developed for WordPress blog users a handy touch-swipe navigation. This WordPress plugins is completely responsive(mobile-friendly) and let's you create completely custom sideshows and CSS3 banner rotators with images, videos or HTML content in slides. For photo gallery you can enable vertical or horizontal thumbnails, enable lazy-loading or full-screen.
The plugin also supports for YouTube/Vimeo videos that allows you to create video galleries.
Video Gallery WordPress plugin supports to add video galleries in WordPress blogs i.e, the videos can be taken from YouTube, Vimeo and self-hosted. Three skins for you to choose from. So now it can fit perfectly in your site design. A custom admin panel prepared for the gallery. Feeds from self hosted videos, videos hosted on s3 amazon, YouTube, Vimeo, images, Vimeo or even audio ( so it's a media gallery ). Has HTML5 functionality so that it can display on iPhone / iPad. Cross-browser compatible. Works fine in major browsers.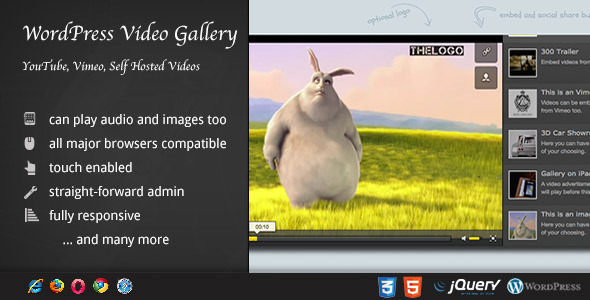 YouTube Pro is a great plugin for WordPress. Using this awesome plugin you can upload, edit and delete your movies without leaving your blog. That's not enough further more you can change the appearance of your player that exactly meet with your design.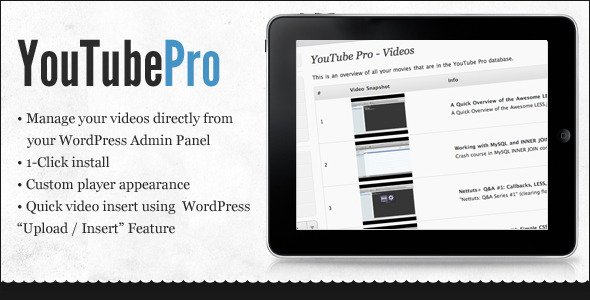 That's really a great plugin which allows you to integrate different YouTube feeds into your blog. You can integrate YouTube channels, featured YouTube videos (Most Popular videos, Most View videos etc…), videos from playlists (New), videos from search results and also videos from default Categories (Music, Autos, News etc).
Everything is customizable like widgets and shortcodes and works with the very nice Fancy-box to display video previews from homepage or widgets section.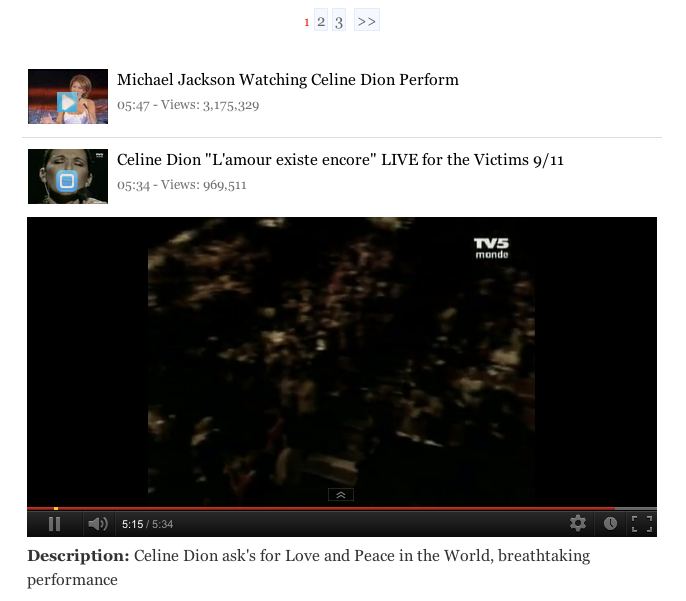 WordPress YouTube Channel Plugin is developed for WordPress users that aims to display the YouTube channel of the saved user profile. The plugin includes a simple back-end where users can set the YouTube channel to show and the width of the channel div.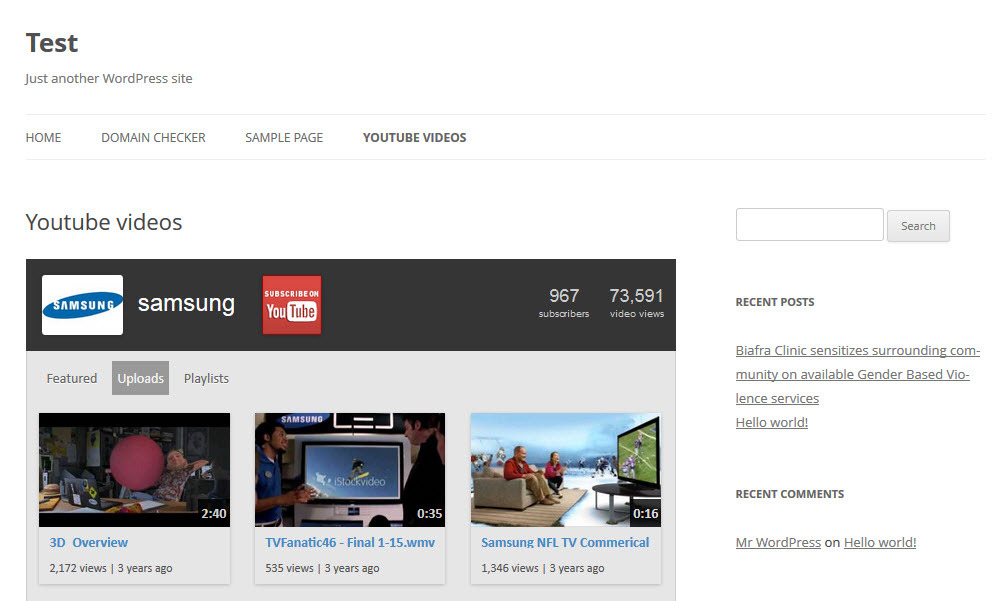 YouTube SEO playlist for WordPress plugin enables you to turn an un-ordered list of YouTube links into a video playlist. You can choose to make a video playlist with keywords, user-channel or a regular YouTube playlist.
WordPress YouTube Instant Player search is a powerful plugin that will turn your WP blog into a fun place to stay. You can use it to give your guests the ability to search in millions of videos in a few seconds and all they have to do is typing the name of the video, but this is only a small part of what it can really do.
Features:
Easy to install.
Unlimited players.
2 player themes.
Unlimited background color.
Fully customizable.
HotKeys.
Playlist.
Player customization.
ShortCode Or Page.
Next & Prev & Loop and more…
Tooltip integrated.