Gone are those days, when it was possible for any one to trick and fool Google easily with the use of black-hat techniques. Time passes too quicker! And now these are the days, when almost each and every person who used to trick or just started trying tricking are badly treated by Google in the way that it had been seen impossible to escape!
Google's webspam team have been working on improving user-experience by showing its users high quality results and avoiding spammy results.
Google introduced Google Panda, Penguin, Exact Match Domain (EMD) and many other algorithms to decrease the ranking of low-quality web pages on SERPs. And to create a healthy environment for its users.
According to Wikipedia, Google Penguin update is a search engine algorithm updated to decrease the ranking of sites that are involved in link schemes, keyword stuffing, cloaking other black-hat techniques and violate Google's Webmaster Guidelines.
After the bombing of algorithms by Google over SEOs, webmasters and bloggers. Now, in my opinion there are people muchly who regret what had they done to push their sites' web pages upward in the search engine result pages (SERPs). I'm referring to the techniques, they precedingly did i.e. keyword stuffing, participation in link building schemes like paying for links, exchanging links etc.
But now, it's no more possible to fool Google (that's what I think and see).
Because of the existence and performance of more than 200 search engine algorithms by Google.
Since Google PageRank is now considered as one of the 200 factors (algorithms) of ranking search engine results. People madly run after it and start building links!
In this noisy place where almost each and every blogger write on blogging and SEO "rarely" advice on their OWN but often advise what they were advised too, no matter how it is.
For a newbie it's quite easy to get lost under so much advises. Various black-hat methods also exist for building backlinks, such as using softwares to blast gazillions links over the web by spam commenting, forum spamming and ultimately this all is called link spam.
Stop it here and let me introduce you to the topic of this article.
What are Unnatural Links?
Links. Simply are links, but it's kind varies than a common link.
There are two kinds of links based on their naturality, these are:
natural links: links that are linked naturally, no kind of any other thing or action cause. Attract them (superbly preferred always)
unnatural links: links that are linked unnaturally, in violation to the natural way. Avoid them (highly recommended)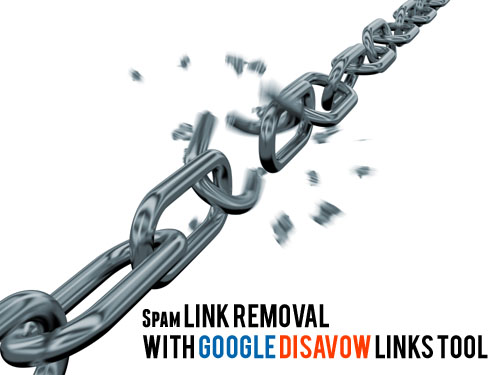 Why avoiding unnatural links?
Because they harm. Because they are unnatural and are not tolerated by Google. The links that are:
built spamming
built through forum spam
built through comment spam
not linked naturally
links that "are" built
paid
gained through participation in link building schemes etc.
These links are extremely harmful by many means. Just a line to describe what unnatural links are:
links that are built, not earned naturally and automatically because your content is REALLY worth linking in that particular piece of content.
How to Disavow Unnatuaral links
Let me tell, you guys that it's a two-step process in which you will download a list of links to your site first. Next, you will then create a file containing only the links which you want to disavow, finally upload that file to Google Webmasters. For instance read the following steps on how actually this works:
Download links to your site
First of all, login in to your Webmaster Tools and on the homepage, click the site you want
On your site Dashboard, just click the Search Traffic → Links to Your Site
Under Who links the most → More
Finally, click Download more sample links. If you click Download latest links, you'll see dates as well.
Note: When looking at the links to your site in Webmaster Tools, you may want to verify both the www and the non-vww version of your domain in your Webmaster Tools account. To Google, these are entirely different sites. Take a look at the data for both sites.
Fianlly Upload the list of links to Google Disavow Links Tool
Go to the disavow links tool page
Select your website
Click Disavow links
Click Choose file
Done.