If you have been a member of Google drive then you might wanna know how to create direct download links. In Google Drive, many people don't know the simple trick to get direct download link to Google drive files. Everyone love when the download gets started just after clicking the link, right. But, when you upload files on Google drive it gives you file shareable link and when you go to the link you will have to click download icon to download the file.
However, if you don't want your users to land on Google drive's download page and give direct download links then read the rest of the article. Direct download links to Google drive files made easy.
Direct Download links to Google Drive Files
To get direct download links to Google drive files you must read the steps given below:
Let's start
Upload your file on Google drive
When you are download uploading your file click the uploaded file
On the top right corner click 3 vertical dots and click share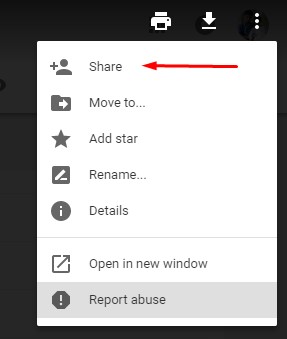 A popup window will appear where you have to click Get shareable link
THe
How to get direct download links for Google drives files
The shareable Google drive file link will look like this:
https://drive.google.com/file/d/0B_DJbsL4yh3eX0JsQWg5QWNVN28/view?usp=sharing
All you have to do is, make the file link like this:
https://drive.google.com/uc?export=download&id=0B_DJbsL4yh3eX0JsQWg5QWNVN28
When you run the above link the download will start without even taking you to download page of Google drive.
If you are still confused to get download link for your drive file, comment please.