Just came up with best plugins for login security in WordPress on demand. This will stop brute force attacks on your WordPress blogs. Mostly, the malicious bots target the login area of your WordPress blog. By chance if they find your WordPress login page, then take into account that this would be dangerous, maybe you would even lost your WP blog. I've found a list of 8 best plugins for login security in WordPress. Feel free to use them, all are tested and no one is broken. AHA! No more brute force attacks by robots. What the hack brute force attacks arise?
The phenomenon of making tons of failed login attempts by robots over login form of a website is termed as "Brute Force Attacks".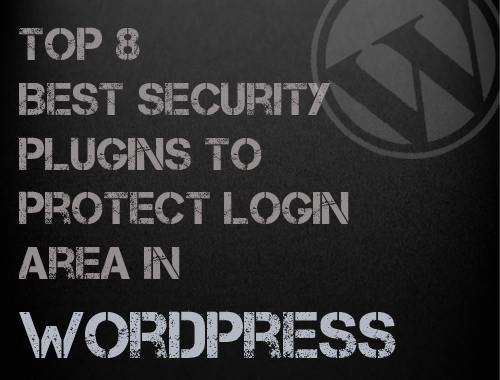 List of Plugins to Protect Login Area in WordPress
1. Stealth Login Page
It's what I call a really great WordPress plugin which will enable you to generate a secret login page URL. It will definitely prevent the brute force attacks. This will protect the default WordPress login destination of your blog (wp-logn.php or wp-admin) from being accessed without editing a couple of codes in .htaccess file.
2. Login Limit Attempts
Login Limit Attempts WordPress plugin lets you limit the number of failed logins on your WP blog's login page. It helps you to find out IP addresses from where the failed login made and also let you block those IP addresses on one-click action. No more bloody shit failed malicious logins will be took place in your WordPress blog.
3. Password Protection
Password Protection is a free security plugin of WordPress which adds an additional layer of security over WordPress login area. Which requires a username and password whoever try to access WordPress login screen of you blog. This plugin adds HTTP basic authentication as secondary defense layer for wp-admin and it definitely blocks brute force attacks.
4. HC Custom WP-Admin URL
With this plugin you can change wp-admin and wp-login.php to any of your choice, making it impossible for the hackers to access your administration login page. Additionally, you can change the category, tags based permalinks using this simple plugin.
After installing, go to Settings > Permalinks at the bottom of the page you'll see some more input fields which will be used to specify a new permalinks slug like for category -> topics, wp-admin -> admin or anything else unique.
Download Custom WP-Admin URL Plugin
5. Login Security Solution
Login Security Solution plugin will let's you store the IP address, username and password for failed login attempt over each user. It applies extremely nice technique which will not only track the data about the failure but also compares the historical data with future login failures.
6. reCAPTCHA Login
This plugin adds a captcha verification code on (wp-admin or wp-login) which is difficult to enter by bots. It also adds captcha code in login, registration widgets.
7. Google Authenticator
Google Authenticator WordPress plugin which adds 2-steps verification like Google does, on your WP blog login page. But in this WordPress plugin we have got to generate  an authentication key which will be used while we login into our WP blogs. The 2-steps verification requirement can easily be enabled per-user basis.
8. One-Time Password
This simple to use plugin enables you to login to your WordPress weblog using passwords which are valid for one session only. One-time passwords prevent stealing of your main WordPress password in less trustworthy environments, like internet cafés, for example by keyloggers.