(Last Updated On: May 17, 2013)
bbPress forum is mainly developed to give a forum service for WordPress blog users in their existing blogs. However, you can  easily install bbPress forum in your WordPress blog even If you are a Genesis Framework user try integrating bbPress with Genesis, here. Now, let me come back to the point that how to moderate topics and replies in bbPress WordPress, this will help you to reduce spam from your bbPress forum.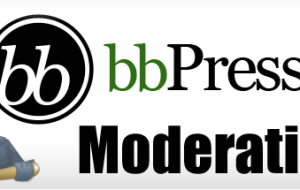 bbPress Moderation
bbPress Moderation WP plugin help you reduce spam by moderating the new topics and replies. Actually, the plugin changes default status of new topics and replies to 'Pending' from 'Publish'. The topics and replies that have the status of pending will be shown as 'Awaiting Moderation' until the administrator approves publish them.
Features
Blog administrator can easily be notified via email
You can always enable moderation on anonymous postings
The registered users can post without waiting for moderation once first topic or reply is approved
A bubble counter is shown on the Topics and Replies menu to indicate the number of posts awaiting moderation
Pending topics and replies are styled to give a 'hint' to the submitting user about the new topic and reply is pending
Usage
1. Download, install and activate the plugin bbPress Moderation
2. Go to Settings > bbPress Moderation
3. Simply configure the settings as you want them: